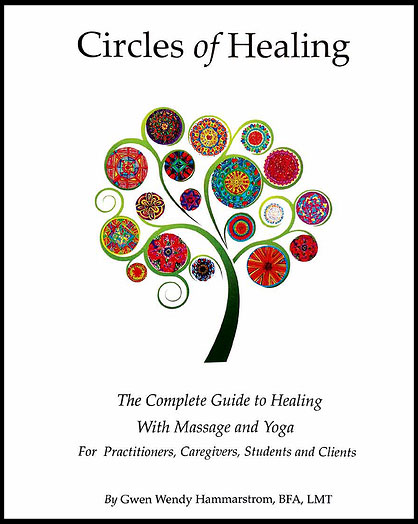 Circles of Healing
The Complete Guide to Healing with Massage & Yoga:
For Caregivers, Practitioners, Students and Clients
by Gwen Wendy Hammarstrom, BFA, LMT


Today's Special! $34.95 $32.95
Plus shipping

Book Information
ISBN: 978-1480259003
576 pages; 11"x8.5"x1.2"; 3.3 lbs Paperback.
More than 100 photos showing massage and yoga positions
Extensive Bibliography and Index
Published by CreateSpace
Copyright © 2012 by Gwen Hammarstrom. All rights reserved.




Note from Allen Kates, MFAW:

I've known author Gwen Wendy Hammarstrom for several years, and this book reflects her qualities and personality--courageous, helpful, loving, compassionate and caring, a massage and yoga practitioner who possesses an astonishing amount of knowledge and wisdom that she is eager to share with others. The book is a stunning accomplishment, a tour de force that everyone who practices massage or yoga will want in their library. It is a reference book like no other, filled with description, instructions, photographs and helpful hints. Easy to read and easy to follow, Circles of Healing is without a doubt the go-to book for healing, whether the source of suffering is physical, emotional, psychological or spiritual. Wendy's tender touch in Circles of Healing embraces not only your heart, but also your soul. It nourishes your spirit, and helps you laugh and sing again. The book is Wendy's life journey, a precious gift to everyone who has the privilege of reading it and applying its insight and exercises to their own lives.




Description, Table of Contents, Reviews, Author Bio
Description

The Tree of Life on the cover of this book is bearing mandala fruits, each representing a chapter in the book. Mandala is a Sanskrit word for circle or wheel, or a beginning with no end. The systems of our bodies move in circles; the digestive, respiratory, blood, lymphatic and nervous systems share pathways with energy moving throughout the body. Focusing on the mandala's midpoint while viewing or creating it can bring you to a state of physical and emotional equilibrium.
You may achieve a similar result by following the self-care techniques described in this book, such as conscious breathing, exercise, and giving and receiving healing touch. From the center of our being, we can extend to include the larger spheres of family and community.
In my practice, the most common complaints are headaches, arthritis, jaw (TMJ) pain, irritable bowel syndrome, fatigue, and insomnia. Other ailments include back, neck, and foot problems. A vast number of clients come to me because they endure chronic pain or are stressed and need to relax. Many are women who are facing the challenges of hormonal shifts and life changes, clients dealing with everyday stresses, who choose massage over a pill.
One special area of my practice has been working with people who are disabled or challenged in unusually difficult ways. As a consultant for the mentally and emotionally challenged, I have come to know and work personally with people who suffer from depression (mild and severe), panic disorder, post-traumatic stress syndrome, agoraphobia, obsessive compulsive disorder, alcoholism and other addictions. Some clients have had schizophrenia, bipolar disorder, severe mental retardation, Down's syndrome, and autism.
Bodywork, a term which refers to massage and other forms of hands-on healing such as polarity therapy, acupressure and yoga restores the natural energetic pathways that lead the body, and the whole human, back into equilibrium. Even when a person is disabled, chronically sick, or terminally ill, they can find balance and harmony within themselves through the gift of healing touch and the restorative poses of yoga.
I believe healing touch is an overlooked modality for many people with these diseases. All those facing physical, mental and emotional challenges, and their caregivers, are the inspiration for this book. The vulnerability of these special clients, with their courage, warmth, wisdom and magnanimous spirit continues to inspire me.
Those who are new to the field of bodywork will learn about the variety of paths they can follow. By using the techniques and reading the case histories and personal stories in this book, seasoned bodyworkers and movement instructors can expand their area of practice and discover the unexpected joy of working with these populations.
This book can help all care givers, including psychotherapists, hospice workers, home health care workers, physicians, rescue workers, nurses, teachers and others to discover new ways to use touch and movement to help their clients as well as themselves. Now, perhaps more than ever before, we need simple ways to help each other in this troubled and increasingly complex world.
-Gwen Wendy Hammarstrom, BFA, LMT

Table of Contents
SECTION ONE– Caring for Mothers and Infants. 10
Chapter 1: Early Motherhood, From Pregnancy to Childbirth. 12
Chapter 2: Infants and Massage. 42
Vulnerable Babies in the NICU (Neo-Natal Intensive Care Unit)……… 58
Husbands, Fathers, Partners and the Extended Family………………. 66
Teen Touch. 68
Chapter 3: Partner Massage and Stretching. 71
SECTION TWO: Acquired Chronic Conditions: Easing the Burden of Severe Illness and Trauma 95
My Father – The Old Bryn and the New Bryn. 96
Chapter 4: Healing the Wounded: Working with Trauma and Post Traumatic Stress Syndrome 102
Concussion. 111
Veterans of All Wars Also Need Hands-On Therapy to Help Heal their Wounds. 122
Chapter 5: Massage, Yoga and Breathing for People with Cancer. 128
Chapter 6: The Challenge of Addiction. 156
Class Routine: Self-Massage, Partner Stretches, Exercises for Flexibility, Mobility, Balancing and Fun 158
Suggestions for an Outdoor Class. 184
Breathing and Visualization Exercises. 196
Chapter 7: How We Can Help Stroke Victims. 201
Chapter 7A: Hands On with Parkinson's Disease: Causes and case studies. 207
SECTION THREE: BODYWORK FOR SPECIAL PEOPLE. 213
CHAPTER 8: WORKING WITH DISABLED INDIVIDUALS . 214
GENERAL PRINCIPLES ..214
Chapter 9: Working with Challenged Individuals in an Institutional Setting. 222
Uncrossing Wires. 223
Poses that Ease the Students into the Movement Phase of Class. 225
Yoga Props. 236
Balancing Techniques for Self- Care. 240
Movements and Yoga Poses For Staff Working with Disabled Clients and Others: 241
Chapter 10: Working One on One With Disabled Clients. 291
Section Four – Midlife and beyond. 313
Chapter 11: Helping Women in Transition – Midlife Musings. 314
Bodywork for the Midlife Woman. 318
Aromatherapy. 328
Bodywork for the Endocrine System.. 329
Chakra Chart 332
Reflexology Chart 345
Chakra Yoga
What your Clients can do for Themselves: Wisdom from Women Who Have Been Through It 346
Remember to Dance! 353
Chapter 12: Aging with Grace at any Age. 366
Working and Living with Elders. 366
Massage and Healing Touch for Seniors. 367
Background – The Founding of Polarity Therapy by Dr. Randolph Stone. 429
The Squat 430
Working with Tourette's & Torticollis. 432
Chapter 14: Providing Love and Comfort to the Dying. 437
SECTION FIVE – Animal Massage for the Four-leggeds, Two leggeds and No leggeds. 449
SECTION SIX – SELF CARE, TAKING CARE OF THE CAREGIVER479
APPENDIX. 503
Yoga for Specific Conditions
Poses and Holds, Chapter by Chapter 503
Where to Find the Yoga Poses and Exercises in the Book. 516
Forms for Use in Your Professional Practice. 517
Assessing your Inner Motivations as a Practitioner 529
Developing your Awareness through Practice and Attention. 531
Resources for the Practitioner 532
Schools and Systems of Bodywork. 536
Bodywork and Holistic Organizations. 537
Bodywork and Holistic Publications. 538
Resources for Specific Chapters and Clients. 538


Top of page


Reviews:


A Really Practical Handbook

As a veterinarian and qualified human massage therapist (whose mother taught Hatha Yoga until she was 95 years-old!) I applaud Wendy Hammarstrom's book Circles of Healing: The Complete Guide to Healing With Massage and Yoga.
It is a scintillatingly easy read, yet encyclopedic, well referenced and researched, and very practical instruction manual for practitioners, care givers ( especially of the handicapped and elderly), and for students and clients. Those seeking to take charge of their own health care maintenance and recovery from all the stresses and dis-ease of these times, Gwen's book will become a dog-eared companion.
The short section on "Massage for Our Animals" broadens the scope of this book by adding an important dimension to discovering and applying our healing powers beyond drugs to all creatures great and small.
At the price being asked for this 550 pages of valuable information and instructive illustrations, this book is more than a bargain: It is a gift, and a light post of inspiration.
-Michael W. Fox

A Valuable Source of Inspiration and Information

As a Yoga Teacher, I have found "Circles of Healing" to be an valuable source of inspiration and information as I work with a variety of students. It supports my main goal of treating each person as an individual so I can design a yoga practice that best fits their current situation and goals. The six sections cover all stages of life, aging with grace, special populations such as cancer and stroke patients, post traumatic stress sufferers, just to list a few. The index is extensive and provides easy access to the many ideas presented. "Circles of Healing" is an important reference for anyone working in the field of health, for both prevention and treatment.
-Lynne Graham

She's a master!
This is a great book for anyone who wants to know more about the healing process. Wendy not only knows intellectually about massage, she is a great masseuse. Following my recent surgery, the pain was tough but her massage helped more than any pain medication the doctors prescribed. If you want to learn from a master about massage and yoga, read this book!
-L. Nicholson

Excellent
I enjoyed reading Circles of Healing by Wendy Hammarstrom. As a pediatrician I see the importance of caring touch for children of all ages and especially appreciated the attention she gave to NICU babies. Her chapter on caring for mothers who care for infants is excellent. Robert Bissell, MD
-Robert Bissell

The Bible of Massage and Self-Care

This exhaustive work is a keeper! It is the Bible of Massage and Self-Care and it has earned a place on my bookshelf next to "Our Bodies Ourselves," Dr. Christopher's "School of natural healing" and Dr. Jensen's "The Science and Practice of Iridology."
There are over 600 photos, mandalas, numerous resources, many grass roots stories and quotes.
It is the type of book which I will reference for ever more, and will to my daughter to keep on her bookshelf!
If you are looking for a resource book filled with authentic self-care material compiled by a true blue therapist, this is it!
-Jill McCubbin-Clare, Lic. Ac., Dipl. Ac.,M.T.O.M.,M.A. Psych.,Teacher of Yoga
Author Bio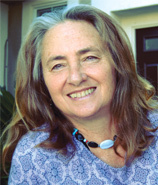 Gwen Wendy Hammarstrom has been practicing and teaching massage and yoga for over thirty five years. She received a BFA in Dance from Temple University and soon after began as Director of Innerworks Center, Classes for Bodyworkers and Healthcare Professionals, in Philadelphia, Pennsylvania. At the same time she was artistic director of Agape Dancers, a modern dance company that reached out to non-mainstream audiences using choreography that combined yoga, martial arts, and images from nature.
She moved to California in 1992 with her husband, who was taking the role of hospital administrator for a facility in Southern California, along with their seven month old daughter, two dogs and three cats. Gwen's first clients and students in Long Beach were infants and parents. She has come full circle with her in-home massages for the ill, the elderly and with hospice massage.
In her bodywork practice Gwen offers her unique blend of acupressure, Trigger Point work, Polarity Therapy and massage therapy. People who have benefited from Gwen's massages include professionals, homemakers, athletes, truck drivers, people who work in offices and stores, people who work in the arts, yoga teachers and police officers. Her clients include parents and infants, teenagers, the developmentally disabled, the medically fragile, hospice patients, animals, and all their caregivers. She also teaches yoga classes in Murrieta and Escondido, CA.
Gwen was a co-founder of the Inland Holistic Health Association in Southwest Riverside County, California. She has written a column on health and wellness for the Californian newspaper for two years, as well as a bodywork column for Awareness Magazine and freelance writing for High Country Journal in southern California, The Murrieta Chronicle and Neighbor's Newspaper. Learn more at http://wendyswellnessworld.wordpress.com and www.CirclesofHealingbook1.com
Today's Special!
Instead of the usual price of $34.95, we are offering Circles of Healing at $32.95 plus shipping.


To Order
To order Circles of Healing, please click here.

HSP Publishing
Holbrook Street Press