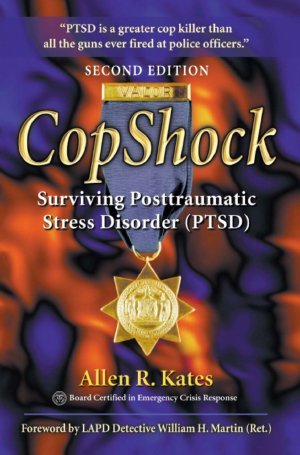 CopShock, Second Edition:
Surviving Posttraumatic
Stress Disorder (PTSD)
By Allen R. Kates, MFAW, BCECR
LIMITED TIME OFFER--
$24.95 USD Each (S&H Included)

30% OFF INTERNATIONAL SHIPPING
To order, please click here


Book Information

ISBN-13: 9780966850123
6x9 Trade Paperback. 480 Pages
Published by Holbrook Street Press
Copyright © 2008 by Allen R. Kates. All rights reserved.
Internationally acclaimed PTSD survival book
for Police, First Responders, Police Dispatchers
and their families...

As well as for...
Firefighters, Warfighters, Chaplains,
Journalists, War Correspondents, Doctors, Nurses

CopShock has become a classic,
the go-to book
and is extremely relevant in today's disturbing world

"A life-saving book."
Andy O'Hara, Badge of Life

"The definitive guide to police PTSD.
I finally felt that someone understood my problems."
Gary Malmberg, police officer

"It will keep you on the edge of your seat.
Commonsense language."
Senior Chief Shannon H. Pennington
North American Fire Fighter Veterans Network

"At last a work on PTSD that a cop on the street will identify with."
NY Cop Online Magazine

"CopShock helps active duty and retired officers and their loved ones
understand the effects of exposure to repeated violence and tragedy."
Law & Order Magazine

"CopShock offers solutions on how to prevent or manage PTSD Symptoms."
American Police Beat Magazine

Includes:
More than 225 support sources
Self-Tests for Resiliency, Anxiety, Stress, Panic Disorder, PTSD, Depression
Notes, Bibliography, Subject Index, Support Sources Index
See more about this book at www.CopShock.com


Description, Table of Contents, Chapter Excerpt, Reviews, Author Bio

Description
Nightmares, flashbacks, anger, concentration problems, emotional detachment, avoidance of people and places... These are some of the signs of PTSD. As many as one in three cops may suffer from PTSD, a condition that could lead to depression, suicidal thoughts, addictions, eating disorders as well as job and family conflict. CopShock prepares police officers for the aftermath of horrific trauma, helps families understand PTSD's effect on their loved ones, tells true stories of officers-men and women-with PTSD, and offers over 200 support sources.
In the second edition of this much praised book on police trauma survival, almost 50 percent of CopShock has been expanded, revised and updated with new material, including self-tests for PTSD, Anxiety, Stress, Panic Disorder, Depression, and Resiliency, as well as information on treatment centers.
The new chapters include stories about police officers and firefighters on 9/11 trying to save survivors from the rubble of the World Trade Center; and stories about police dispatchers and police wives who suffer from vicarious trauma, but are often ignored because they did not witness the critical incident firsthand. In another new chapter, the second edition investigates how police officers can develop resiliency to horrific events to help prevent PTSD. Stories from the first edition of CopShock are also included, as they have become sacred to many readers. These are stories about police officers trying to cope with PTSD as a result of brutal assaults, shootings, death investigations, previous careers as combat soldiers, terrorism, and even PTSD as a result of not shooting.
Law enforcement officers throughout the United States, Canada, and 8 other countries have used this book in their peer support programs, police academies, and post-trauma units. Psychologists, psychiatrists, first responders, police and support organizations recommend the book to their patients and members.
Since the publication of CopShock's first edition in 1999, the book has been reviewed and praised around the world. The A&E Television Network produced a documentary based on CopShock that is shown today in police academies and peer support groups.
In this new second edition, and in the aftermath of 9/11, the war on terror, and the consequences from natural disasters like hurricane Katrina, CopShock will help many more police officers, firefighters, first responders, and war veterans cope with the damaging effects of PTSD.

Table of Contents
Preface to Second Edition
Foreword
Introduction
Chapter 1: Assaults
"I asked God, 'Please take my life.'"
Chapter 2: What Is CopShock?
"I faked an attack of Posttraumatic
Stress Disorder."
Chapter 3: 9/11
"I thought I was the only one left."
Chapter 4: 9/11, Months or Years Later
"I can't eat, I can't sleep, I can't think,
I feel sick. I can't do this anymore."
Chapter 5: Drugs
"The psychos like to work midnights."
Chapter 6: Shootings
"Take the mutt down. Drop him."
Chapter 7: Family
"I tried to keep my pain in to allow
him to get his stuff out."
Chapter 8: Soldiers
"I knew that if I drank enough, I would
not hear the sound of rotor blades."
Chapter 9: Flashbacks
"The smell of blood was sweet
and smothering."
Chapter 10: Not Shooting
"I'd rather be tried by twelve
than carried by six."
Chapter 11: Bomb Squad
"It blew him back and blew me over
and we were on fire."
Chapter 12: Police Dispatchers
"I've been waiting to hear somebody die,
and this is it."
Chapter 13: What To Do About CopShock
"A normal reaction
to an abnormal amount of stress."
Chapter 14: Resiliency
"The ability to bounce back from
adversity can be learned."
Chapter 15: Support Sources A to M
Chapter 16: Support Sources N to Z
Appendix 1. Resiliency Self-Test
Appendix 2. Anxiety Self-Test
Appendix 3. Stress Self-Test
Appendix 4. Panic Disorder Self-Test
Appendix 5. PTSD Self-Test
Appendix 6. Depression Self-Test
Appendix 7 Please Listen (handout)
Notes
Bibliography
Subject Index
Support Sources Index
Acknowledgments
About W. H. Martin
About Allen R. Kates


Chapter Excerpt: Chapter 3—9/11
He took a couple of steps in the direction of Vesey Street. He was maybe a hundred feet from the north tower on the concourse level—when the top floors of the north tower began to collapse, pancaking on top of each other.
"The sound started out faintly and picked up speed like a train and got closer. Because of all the air being pushed out of the building," said Jimmy. "I felt this huge blast of wind."
He could see beams and debris on the ground, but didn't know they were from the south tower, and there was so much dust billowing toward him, he couldn't even tell that the north tower was thundering down.
He turned toward 6 World Trade, his back to the crumbling north tower. On his right was one of the beams that supported the upper floors of 6 World Trade, and it protected his right side. His air tank protected his back. Nothing protected his left.
He knelt down and curled into a ball.
That's when the pulverized cement and glass and ground up office equipment hit ground level, and the debris cascaded towards him in a churning toxic cloud.
"I was getting hit with debris, and I was like, Holy shit, that hurt. And the next chunk that hit me was a little bigger, and it hurt a little more, and it was getting progressively worse. I was getting buried, and resigned myself to the fact that this was the day I was gonna die."
He reached for his face piece attached by a hose to his air tank to try to get some air, but it was down by his ankles, already buried.
The debris piled up over his knees and then over his waist. Very soon he would be completely buried.
"They say when you're dying, your whole life passes before your eyes. It wasn't like that for me. I thought about my wife. I thought about leaving her a widow, and we hadn't had any kids yet. I thought about how I told her it was safer in the fire department.
"And I thought about how they were gonna find me when they dug me out, curled up in the fetal position, and for some reason that bothered the hell out of me. I said to myself, I can't let them find me like this."
That's what prompted Jimmy to push off the debris burying him and stand up, and when he did, "I expected to get sliced in half by a beam."
He realized then that the windows in 6 World Trade were busted out. "I figured that inside had to be better, because where I'm at I'm definitely dead." And he dived headfirst into the building.
Then it occurred to him that there were several sub-basement levels, and he didn't know if there was a floor inside the building he was diving into. "The floor mighta gotten knocked down, and, for all I know, I'm falling six stories."
He landed on his back, face up, on the floor just underneath the windowsill. His helmet was gone, and the debris surging over him filled his mouth, nose and eyes with dust.
Several seconds later, everything stopped. It was quiet. No wind, no voices. He couldn't even hear the sound of his heart beating.
"It was like every sense was turned off. You couldn't see anything because it was pitch black. You couldn't hear anything because the fine particles of dust in the air blanketed the sound. You couldn't hear yourself talk. You couldn't breathe."
Jimmy got up on his hands and knees and sat on the windowsill. He took off his gloves, shoved a hand in his mouth and tried to scrape the muck out of his mouth with his fingernails.
"I couldn't get up any spit. The dust was so fine, it soaked up the moisture in your mouth. I tried breathing, and every time I took in a deep breath, it seared my lungs. So I tried to take short, shallow breaths."
He dug around for his face piece, shook it out, put it on, and turned on the tank's air regulator. But even though he thought he'd cleaned out the mask, the forced air blasted fine dust down into his lungs, and he ripped it off his face and choked.
Jimmy couldn't see anything, not even the glow from small fires surrounding him. It was so dark and silent, he didn't know if he was inside or outside. Once the dust settled, he could see hazy beams of sunlight coming through the blown out windows. Then he realized he was outside. He didn't know how he got there.
"I thought I was the only one left."
Then he saw a pale splash of light from a flashlight, and heard a faint sound of voices. He realized others had survived, too.
"One of the guys said, 'Vesey Street is out this way.' And we made our way in that direction. But you didn't have footing. Debris was piled everywhere, and you felt like you were walking on a garbage dump."
By the time Jimmy got near Vesey, the other men were gone. They seemed to have vanished into the sheets of dust hanging in the air, and he was alone.
"I felt like I was in a movie, 'The End of the World.' You looked around, and everything was covered in gray dust. The leaves on the trees were gone. Nobody was there. I saw cop cars that were crushed by huge chunks of concrete, fire trucks burning.
"And I said to myself, 'What the fuck happened?' 'Cause I had no idea of the magnitude… I thought that just pieces of the building had come down. I didn't know anything about the south tower. And to see all of this, it was more than I had expected."
He kept walking. He went down a staircase from the concourse level to street level, without thinking about where he was going.
He went east on Vesey toward Church Street. "And as I'm walking, I'm trying to take everything in, but it's impossible. I pass this discount department store called Century 21 on Church Street at Cortlandt across from the Trade Center complex. It's badly damaged. My wife loves that store, and I'm thinking, She's not gonna be shopping there for awhile."
He kept walking until he came to Broadway. "I see a church, St. Paul Chapel, and look at the barren trees amongst the headstones in the cemetery, and I don't see a living soul."
At the corner of Broadway and Vesey, in front of St. Paul's, he saw people, and realized he was not alone. Several fire department chiefs had set up a command center using a folding magnetic table to plot the tasks, assignments and locations of the companies. When Jimmy passed them, they were sliding square magnets with the company numbers on them around the board.
He drifted by the chiefs. They didn't look at him. They didn't talk to him. They didn't acknowledge his existence.
"I'm a walking zombie, covered from head to toe in gray dust. So I start thinking, Maybe I'm dead. Who the hell knows what happens when you die? Maybe I'm walking around as a ghost."
Copyright © 2008 by Allen R. Kates. All rights reserved. For more chapter excerpts, please go to www.CopShock.com.

Reviews

A Classic on Law Enforcement PTSD
Allen Kates's second edition of CopShock is, without a doubt, one of the most valuable books available for police officers, families, suicide prevention personnel and veterans on the topic of posttraumatic stress disorder (PTSD). It was hard to improve on the original edition of CopShock, but Allen Kates has done it superbly. –Andy O'Hara, Badge of Life


A Must Read
CopShock, Second Edition, is not just for Law Enforcement Officers, but for all members of the Emergency Services including Fire Fighters and Emergency Medical personnel. Written in commonsense language, the story telling is in the words of the wounded warriors and includes an extensive network of references. We strongly recommend this book for all wounded warriors and those who want to know how to prevent PTSD before it begins. –Senior Chief Shannon H. Pennington, North American Fire Fighter Veterans Network (www.firefighterveteran.com).


As Meaningful as a Bulletproof Vest
CopShock should become required reading for every member of every police department in the country. The book can be as meaningful as a bulletproof vest, because PTSD is a greater cop killer than all the guns ever fired at police officers. -Lt. James F. Devine (Ret.), CSW, CASAC, CEAP, former director of NYPD Counseling Services


The Definitive Source on Police PTSD
This really is the definitive guide to police related PTSD. I was astonished a how well the book was able to pinpoint problems that I easily related to. I finally felt that someone understood my problems! I only wish CopShock, Second Edition, had been available to me 28 years ago. –Gary Malmberg


A Great Resource for Those Suffering PTSD
I highly recommend this well-written, powerful book. CopShock, Second Edition, is a must-read for mental health professionals, health care workers, police officers, fire fighters, emergency workers, and their families and friends. Allen Kates' compelling, real-life stories bring alive the accumulative effect of trauma that police officers encounter on the job, and the chaos and devastation it brings to many lives. CopShock should be included in training curriculum to help the psychologically wounded recover. –Sandra Dixon, PMHCNS-BC, Psychiatric Advance Practice Nurse, author of The Invisible Girl: Uncovering Repressed Memories of Childhood Sexual Abuse.


Most Important People in our Society
Allen Kates is one of the first to dramatically expose the stresses on some of the most important people in our society: police officers. As Kates continually stresses, we need to take better care of police officers, the people who are preserving our lives, if not for their sakes, for our own. -Aphrodite Matsakis, Ph.D., author of 10 books on trauma and PTSD


A Poignant and Accurate Portrayal of PTSD
As clinicians... we are only too aware of the pain and suffering that many officers face after a traumatic incident. All too often, many officers keep their pain hidden, thus creating a fertile climate for PTSD. Allen Kates' book is a poignant, descriptive, and accurate portrayal of PTSD and its effects on those who have been traumatized. -Ronnie M. Hirsh, Ph.D., Director, Manhattan Counseling and Psychotherapy Associates, LLC

Author Bio
Allen R. Kates, BCECR, MFAW, is a trauma expert and journalist. He is Board Certified in Emergency Crisis Response (BCECR) by the American Academy of Experts in Traumatic Stress (AAETS), and has earned certificates in critical incident stress debriefing and management, suicide intervention, PTSD therapy, resiliency, crisis intervention and victimology. He was trained in crisis intervention by the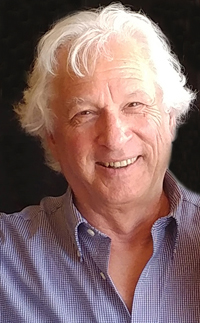 Pima County Attorney's Victim Witness program, and helped victims of crime cope with tragedies such as robberies, beatings, rapes and murders. In this capacity, he worked closely with police officers.
Kates is a member of the International Law Enforcement Educators and Trainers Association (ILEETA) and is author of the book CopShock, Surviving Posttraumatic Stress Disorder (PTSD), first and second editions. He assisted Sharon Knutson-Felix in writing her book, Gifts My Father Gave Me, Finding Joy After Tragedy, a book on grief, loss and healing. He also assisted Dorothy H. Finley in writing her historical memoir, Just Plain Dorothy: The Life of Dorothy Hunt Finley, Cowgirl, Teacher, Tycoon, Philanthropist. He has a Master of Fine Arts degree in Creative Writing (MFAW), and is a writing coach, editor and writer who helps others succeed with their book manuscripts. See www.ghostwritingmaster.com

CopShock, Second Edition
LIMITED TIME OFFER--
$24.95 USD Each (S&H Included)

30% OFF INTERNATIONAL SHIPPING
To Order
To Order CopShock, Second Edition, please click here.