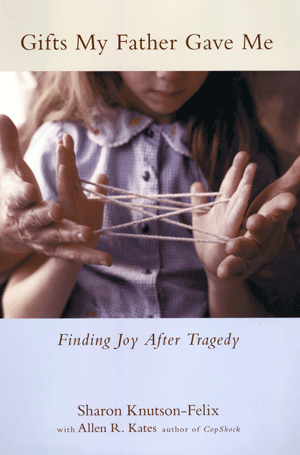 Gifts My Father Gave Me
Finding Joy After Tragedy
By Sharon Knutson-Felix
with Allen R. Kates, MFAW, author of CopShock
LIMITED TIME OFFER--
$16.95 USD Each (S&H Included)

was$21.95

30% OFF INTERNATIONAL SHIPPING

To order, please click here


Book Information
ISBN-13: 9780966850116
6x9 Trade Paperback. 288 Pages
Includes: 8-page color photo insert, Grieving and Healing Guide
Published by HSP Publishing (Holbrook Street Press)
Copyright © 2006 by Sharon Knutson-Felix. All rights reserved.

Description, Table of Contents, Chapter Excerpt, Reviews, Author Bio
Description
Losing someone you love is the hardest thing most of us will ever have to endure. Sharon Knutson-Felix experienced the deaths of her six-year-old son, and, years later, her police officer husband. In this remarkable book, she reveals how she went through and survived the grief process, endeavored to heal, and found love and joy again.
Sharon unravels her powerful story as if over coffee at your kitchen table, an intimate story filled with laughter, tears, suspense, and Christian faith. Yet this inspirational story transcends religion, and comforts anyone who has lost a loved one.

Table of Contents
Foreword
Chapters:
1. First Love
2. The Visit
3. The Ring
4. A Married Woman
5. Pregnant, At Last
6. Pregnant Again
7. Surgery
8. The Letter
9. Lies
10. Forgiveness
11. Doctors
12. Jesus In My Room
13. Ricky
14. Once Upon A Time
15. The Trial
16. The Truth
17. Healing
18. The Preacher's Daughter
19. Like Every Other Kid
20. A Person That Matters
21. Growing Pains
22. Motors
23. The Assault
24. Doug
25. A Man At The Door
26. Doug's Squad
27. Day Is Done
28. A Life For A Life
29. God's Peace
30. Unexpected Gifts
31. Love, Again
32. Made In Heaven
Epilogue: Finding Joy After Tragedy
Grieving and Healing Guide
Resources
Acknowledgements
About Allen R. Kates
About Sharon Knutson-Felix
Chapter Excerpt
About six months after Ricky was killed, I called the insurance company and asked why I hadn't heard from them. They said the agent is on vacation, the file is not complete, blah, blah, blah, we'll call you in a week. They didn't call in a week. They didn't call in two weeks. I called again and was told the agent would call me back in a few minutes. He didn't. The next day, I called yet again, and the agent came to the phone.
"We don't have all the documents to complete the case," he said.
"What do you need?" I said.
"A statement from Ricky's doctor about his health when he was killed."
"What do you mean?"
"Did he have any diseases."
"What difference does it make if he had a disease?" I said.
"Well, if he had leukemia, and his life expectancy was only three years, we would pay a different amount of money. We wouldn't owe you as much."
"He was well enough to walk down the street," I screamed. "And if he only had one day to live, your client took it from him and took him from us."
"We need proof that…"
"You'll get it," I said, and hung up.
The agent faxed a form to our church office, and I took it to the doctor. The doctor wrote that Ricky was in good health, had no diseases, no illnesses. He was a typical six-year-old boy.
Then I got in the car, sat Misty and Justin next to me, and drove to the insurance company. We entered the insurance company's office, Misty in one hand, Justin in the other, a photo album under my arm, and I asked to see the agent.
"He's in a meeting," said the receptionist.
"I'll wait," I said.
"We don't know how long he'll be."
"That's fine. I'll wait for him," I said, and gently set the photo album on the magazine table.
I sat down, with two kids, four- and five-years-old. They were good, they sat still, they knew this was important. It had to do with their brother, and why he wasn't here anymore.
You often hear about how resilient children are when bad things happen. But sometimes we forget that they grieve as much as adults. Misty had terrible nightmares, and was afraid of cars in parking lots. She thought they were going to run her over. She asked a lot of questions about the man who killed Ricky. "Does he still drive? Does he take drugs? Is he going to jail?" She asked about Ricky. "Will Jesus see Ricky wearing a bloody shirt? Will Jesus fix the hole in Ricky's head?" Justin was the opposite. He was quiet, and held everything in, which is more typical of how children respond to trauma. He mentioned Ricky's death only occasionally.
At the insurance company, people arrived and filled the seats in the waiting room, and one by one drifted down the hallway to their appointments and later strolled out and left, and new people arrived and waited. Then I saw the agent in the hallway. He glanced my way, and then turned his back to me. I picked up the photo album, told my children to follow me, and called his name.
"Excuse me, do you have an appointment?" he said.
"Yes, I do," I lied. "Maybe you don't remember me. I'm Sharon Knutson, Ricky's mom. Your client ran over my son."
"Okay."
"You need a statement about Ricky's health. I have it, and I want you to pull his file and guarantee me that when I leave here, there is nothing else you need."
"This isn't necessary Mrs. Ka-newt-son…" he said.
"It's not? Then why is it six months after Ricky's death and you're telling me I need more documents. We settled three months ago, we signed your papers, and there is still no check. Why? Because you are concerned about my dead son's state of health?"
"This is just a procedure, Mrs. Ka-newt-son," he said.
"It's an unnecessary procedure. And my question to you is, if he is worth less if he had a disease, is he worth more if he was an exceptionally good-looking kid?"
"Really, Mrs. Ka-newt-son…"
"The name is Knutson. Nut-son. The K is silent. And my son's name is Ricky Knutson. And these are my other children, Misty and Justin. Mis-ty. Jus-tin."
"This is not necessary," he reiterated.
"You're right. It was not necessary for me to come here." I pulled the doctor's letter from the album. "It was not necessary for you to have this form letter."
My voice was growing louder.
"Why don't we go back to my office."
"No!" I said. "I want everyone in the waiting room to hear how cold-hearted you are and what a criminal outfit you're running."
He was silent.
"Do you have kids or grandkids?" I said.
"I have a grandson."
"How much is he worth?"
His face didn't change expression. It was sour and indifferent.
"Tell me how much he is worth."
Everyone in the waiting room was watching, frozen in mid action, holding up a newspaper, leaning in to talk to a friend, suspending a cup of coffee to the lips. Eyes astounded.
"Why don't you ask my kids how much they want to sell their brother for?" I said. "How much money will make them feel better about their brother being run over?
Then I took my children's hands, led them into his office and sat down. He followed, and I laid the album on the table and opened it to a picture of Ricky. The agent dutifully looked, and an exceptionally handsome boy stared out at him. I turned to another photo and then another and another and tears trickled down my face.
"We could have sued your client for millions of dollars, but we didn't," I said. "We don't have years to wait for a trial. We need the money now to pay for his funeral, and I have to care for my other children. We have bills we can't pay. We treated you with respect, and all you've done is treat us like trash. You've acted as if my son's life is worth nothing."
He didn't reply, and for the next half hour sat there and listened. When I was done, he said he would process the check right away and mail it to us.
"Oh, no, you're not," I said. "You call me the moment it's printed and I will be here to pick it up."
We left, and I shook for days afterwards. I was not used to confronting people like this. I was taught to be respectful and polite, but this was about my son. Who I would never wrap my arms around and hug again.
Copyright © 2006 by Sharon Knutson-Felix. All rights reserved.
Reviews

You Will Find Comfort
From the moment you realized that your loved one was dead, everything in your life changed. Whether that loss occurred recently or several years ago, this book will touch your heart and spirit. The aim of this book is to provide its readers with a hope-filled story—a woman's detailed account of how she coped with the deaths of her young child and her husband—and her ability to find gifts in the tragedies. Her gift to you, the reader, is that through her story, you will find comfort and find the answers you seek concerning your own loss.
-Barbara Rubel, Certified Bereavement Specialist, MA, BCETS, CBS, Author of But I Didn't Say Goodbye and Death, Dying and Bereavement


Honesty, Humor, Faith and Pure Grit
Life has dealt Sharon more than her fair share of tragedy. She writes about her odyssey the way she lived it, with honesty, humor, faith, and pure grit.
–Ellen Kirschman, Ph.D., author of I Love a Cop and I Love A Fire Fighter


We Are Not Powerless In the Face of Adversity
Through her handling of her own tragic losses, Sharon proves that we are not powerless in the face of adversity. She shows us how the cruelest life experiences may bring us bountiful gifts—grace, courage, hope and a strengthened spiritual life.
–Sarah J. Hallet, Ph.D., Clinical Psychologist, Police Officer, Oro Valley Police Department, AZ


This Book Made Me Laugh and Cry
This book made me laugh and cry. I was horrified and wowed. I can't even say how I would have been under the circumstances. I can only hope that I could be as strong as she was and make it through. I highly recommend this book to anyone and everyone and I hope it helps you as much as it has me.
–A. Guzman


There Is A Tomorrow
This story is unlike anything I have ever read before. Sharon opens her family album and shares her life with incredible honesty—the good, the bad and the ugly are all inside. Through her humor and candor she teaches the reader that apparently unsurvivable challenges are surmountable. Sharon's story is a reminder that no matter how bad things might seem today, there is a tomorrow to look forward to with hope.
–M. Wilson


Deftly Told with Pathos and with Humor
Gifts My Father Gave Me is inspired and inspiring. Deftly told with pathos and with humor, Sharon's life is laid out for anyone to read, but is most especially recommended to the attention of anyone who has lost a loved one of their own and is seeking to come to terms with tragedy and recover life's joys.
–-Midwest Book Review


Author Bio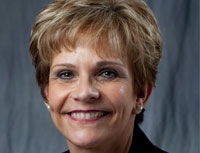 Sharon Knutson-Felix experienced the deaths of her six-year-old son, and, years later, her police officer husband. In order to share with others how she went through and survived the grief process, endeavored to heal, and found love and joy again, she wrote the book Gifts My Father Gave Me, Finding Joy After Tragedy.
Sharon is the Executive Director of the 100 Club of Arizona, an organization that supports law enforcement and firefighter families in times of need.
She is a certified law enforcement instructor and serves on the state Critical Incident Stress Team. She is past president of the Arizona chapter of Concerns of Police Survivors (COPS), and is recipient of a special recognition award by the United States Attorney of Arizona for victims' support. She received awards from the Arizona Department of Public Safety for her dedication in helping survivors and families of law enforcement, and for her contributions to establishing a Family Education Day.
The New York City Police Commissioner granted her a special award for her unselfish support in helping families in the aftermath of the September 11, 2001, terrorist attack on the World Trade Center.
Sharon has become an advocate for victims' rights and is sought after as a speaker to talk about law enforcement families, the grief and healing process, and to share her testimony of God's sustaining grace and faithfulness.
Sharon is married to David Felix, Deputy Director of the Arizona Department of Public Safety. In the writing of her story, she was assisted by well-known writer Allen R. Kates, MFAW, BCECR, author of CopShock and other books. www.ghostwritingmaster.com
LIMITED TIME OFFER--
$16.95 USD Each (S&H Included)

30% OFF INTERNATIONAL SHIPPING
To Order
To order Gifts My Father Gave Me, please click here.
To top of page