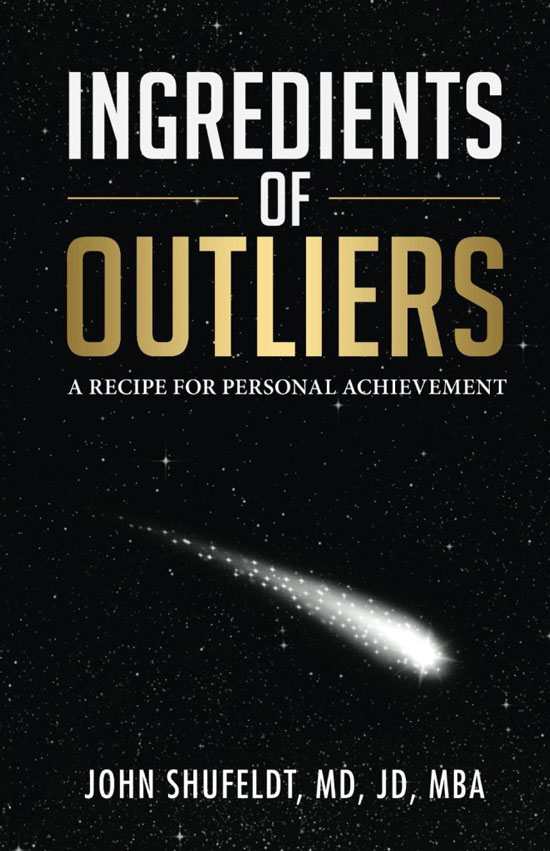 Ingredients of Outliers
A Recipe for Personal Achievement
By John Shufeldt, MD, JD, MBA

LIMITED TIME OFFER--
$19.95 USD Each (S&H Included)

30% OFF INTERNATIONAL SHIPPING

To order, please click
here
Book Information
ISBN: 9781940288000
6x9 Trade paperback, 192 pages
Published by Outliers Publishing
Copyright © 2013 by Outliers Publishing. All rights reserved.

Description, Table of Contents, Chapter Excerpt, Reviews, Author Bio
Description
A life-altering guide packed with accounts from John's personal endeavors, those of historical figures and influential acquaintances. This quintessential handbook exposes the x-factor, that extra something, which unleashes the potential in all of us. Ingredients of Outliers is a compilation of thoughts, tips and techniques that will guide you toward finding the ingredients in the "secret sauce" that makes an individual go from average to extraordinary and will inspire you to step outside your comfort zone to join the ranks of the outliers.

There is an abundance of humor and enlightenment in this 169-page non-fiction book. Each one of the 16-chapters in the book focuses on a different attribute that outliers demonstrate. The chapter topics include humility, failure, persistence, preparation, communication, imperturbability, tolerating risk, kindness, learning, optimism, perspective, indefatigability, efficiency, integrity, intuition and being one of a kind.

John writes about great outliers from the past, such as Ray Kroc, Dr. Seuss, Fred Astaire, Theodore Roosevelt, Captain Chelsey "Sully" Sullenberger and more. John also incorporates stories of the accomplishments of everyday people who stepped out of their comfort zones and broke the boundaries of the ordinary by demonstrating a specific characteristic of an outlier. As a serial student, an indefatigable change agent and a multidisciplinary entrepreneur, John has studied the traits and qualities of extraordinary individuals for over three decades.

The Ingredients of Outliers is the foundational book in the Outliers Series, which is scheduled to publish over the course of 2014. The books in the series will introduce students, or prospective professionals in several fields of interest, the insider tips on becoming an outlier in their respective profession. Readers can expect series to include careers in: medicine, law, sports, design / engineering, the arts / entertainment, entrepreneurism / business, service to mankind/ to country, writing / journalism, and travel / leisure. For updates on publishing dates, visit the "News & Blog" section on ingredientsofoutliers.com.


Table of Contents
Introduction
Chapter 1: Humility: The Root of Success
Chapter 2: Fail Fast: The Gift of Failure
Chapter 3: Persistence: Press On!
Chapter 4: Preparation: When the Wind Blows
Chapter 5: Communication: A Lost Art
Chapter 6: Imperturbability: Staying Calm
Chapter 7: Tolerating Risk: Being a Doer, not a Dreamer
Chapter 8: Kindness: The Art of Paying It Forward
Chapter 9: Learning: A Lifetime Pursuit
Chapter 10: Optimism/Enthusiasm: Look on the Bright Side
Chapter 11: Perspective: Changing It Changes Everything
Chapter 12: Indefatigable: Empty the Tank!
Chapter 13: Efficiency: Doing Better What's Being Done
Chapter 14: Integrity: A Priceless Commodity
Chapter 15: Intuition: Your Guts Don't Lie!
Chapter 16: The Rare Find: Become the One of a Kind
Chapter 17: Conclusions
Acknowledgments
About the Author

Top of page


Note from Allen Kates, MFAW:
In attempting to choose a representative excerpt from the book, I was presented with an abundance of riches. I could close my eyes and open the book anywhere and before me would be a feast of storytelling and inspiration. Here is but one of those amazing stories:


Chapter Excerpt, Chapter Two: Fail Fast, The Gift of Failure

Joanne was the older of two daughters born to a London couple who had met and married when they were nineteen. While Joanne was a teenager, her mother became seriously ill and a few years later, at age forty-five, she died. "It was a terrible time," Joanne recalled, leaving her with "a literal pain in my heart." Still grieving, she moved to Portugal, where she'd gotten a job teaching English. Soon after, she married a Portuguese man and later gave birth to a daughter.

After a divorce she returned home with her three-month-old daughter. It was a difficult and depressing time for her, a single mother who was unemployed and living on welfare. Whenever she found a few spare minutes, she worked on a novel which had been burning inside her for years. When she finally finished it, she managed to capture the interest of a literary agent, who agreed to represent her.

For a year her manuscript went from publisher to publisher, only to be rejected time and again. Then, finally, came the phone call from her agent to tell her it had been accepted. Yet there was still one small issue to be resolved. Fearing that using her first name might limit the book's appeal to all audiences, the publisher asked that she use the initials of her first and middle names, instead of Joanne.

However, she'd never been given a middle name, so she decieded to add the name of a recently deceased and much loved grandmother. That grandmother's first name was Kathleen. Not long afterward, Oanne's first book was published.

On June 5, 2008, by then a billionaire, J.K. Rowling was the featured speaker at Harvard University's commencement ceremonies. During that speech, she said: "I'm not going to stand here and tell you that failure is fun. That period of my life was a dark one... you may never fail on the scale that I did, but some failure in life is inevitable, unless you live so cautiously that you might as well not have lived at all--in which case, you fail by default."

Copyright © 2013 by Outliers Publishing.


Editor's Note: Chapters are followed by many inspiring quotes, such as:

"An inventor fails 999 times, and if he succeeds once, he's in. He treats his failures simply as practice shots." (Charles F. Kettering)

"There are always reasons for giving up. There is no such thing as failure except to those who accept and believe in failure." (Roger von Oech)

"I'm convinced that about half of what separates the successful entrepreneurs from the non-successful ones is pure perseverance." (Steve Jobs)

To purchase this book, please click here.





Reviews

Rich Combination of Inspirational Stories

A first-hand account from a textbook example of an outlier: Ingredients of Outliers is a rich combination of inspirational stories and anecdotal examples of genuine outliers who rise to become leaders in their respective fields. This very readable book peels back the layers to reveal what identical traits these individuals possess and how we can create our own specific recipe for success.
-Sean T S.



Awesome book!

I loved this book! It had a wonderful blend of personal experiences and inspirational stories that really articulated the attributes needed for personal success. The stories were interesting and well researched and written. It was an easy to read book, but one that left you wanting to do more and be more. Shufeldt did a wonderful job of articulating the character traits in our lives that really matter. The book really can be a recipe for personal achievement.
-Amy E.



I wish I could share this book of inspiration and hope to every person...old or young I meet or love!

This book is an easy read, mostly because the personal testimonials and the real life stories are fascinating nuggets that you not only can relate to, but take you by surprise and keep you engaged. Additionally,I love the simple quotes and pearls of wisdom throughout the book that the author, John Shufeldt includes. Many of them, I have written down to keep close at hand when I need a little boost or reminder for myself. "Food For Thought" and "In Other Words" at the end of each chapter are helpful summaries of life's most important examples and lessons to reflect on knowing the adversities and overcome struggles that led to the incredible successes of the person featured in that chapter. What a great foundation of hope to build upon!. If you have the "Outlier" book you have practical tools now to make your own "Outlier" success story and for that, I am truly grateful.
-Mary F. V.


Great reading

Well written, back to basics rules of conduct for success and personal fulfillment. I keep it on my iPad to refer back to as necessary!
-Gustavus J. E.


A refreshing viewpoint

I found John Shufeldt's viewpoint on success refreshing. Dr. Shufeldt does not toot his own horn despite all that he has accomplished. This book is a must read for people that need inspiration to pursue their dreams.
-Andrea L.


Lot of insight

The book has lot of insight and sprinkled with a very healthy dose of examples. I liked the themes of the book like ego, failure, persistence. Like all of those like " Failure is the greatest teacher of all. Failure is not failure to meet your goal. ..." I did not even know about the amazing feats of Cliff Young. The book is very entertaining read with lot of inspiring examples.
-rpv


Uplifting!

John Shufeldt's excellent book is practical and well researched. In an uplifting tone, the author breaks down what it takes to be an outlier. Among these characteristics include humility, kindness, and persistence.

It gives essential attributes of outliers and goes into detail by providing examples, giving personal quotes (the "in my words" section) and quotes by famous people ( the "in other's words" section).

For example in the chapter on efficiency, he discusses the outliers Jeff Bezos,Amazon's founder, and Frank Mars, founder of the Mars candy company. He then gives several suggestions to become more efficient: "preparation, anticipation, focus, flexibility, limitations, communications, and delegation."
The failure chapter I found most uplifting. He details the failures and subsequent successes of dr. Seuss and J. K. Rowling, among others.

Outliers know success isn't permanent and failure isn't final yet they persevere. This book is for anyone ready to take their career or any endeavor to the next level.
-Cupcakes




Author Bio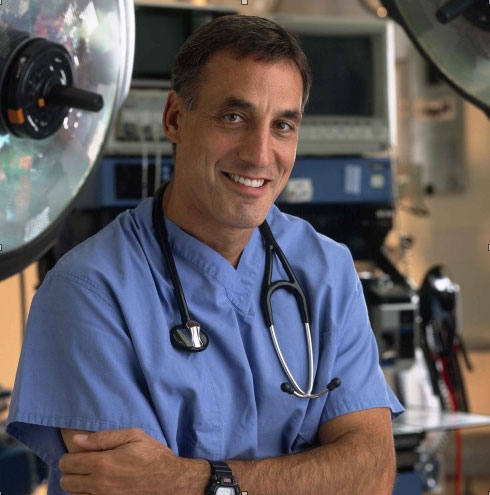 John Shufeldt is a serial student, an indefatigable change agent and a multidisciplinary entrepreneur. After earning his BA from Drake University in 1982 and his MD from the University of Health Sciences and the Chicago Medical School in 1986, John completed his emergency medicine residency at Christ Hospital and Medical Center in Oak Lawn, Ill. in 1989. He spent his final year at the hospital as Chief Resident before returning to school to earn his MBA in 1995 from Arizona State University. In order to expand his knowledge, John studied and earned his Juris Doctorate in 2005 from ASU. He is admitted to the State Bar in Arizona, the Federal District Court and Supreme Court of the United States.

John is the CEO of MeMD, a virtual care portal connecting patients to providers, and the Principal of Shufeldt Consulting, which provides consulting services for urgent cares and medical office practices. He has founded many other health and non-health care businesses and continues to practice emergency medicine and law. John recently authored Ingredients of Outliers, and co-edited Textbook of Urgent Care Management and Textbook of Urgent Care Medicine.

He is the medical director and medic for the Phoenix SWAT team, an experienced pilot and writes and lectures on a variety of subject matters to graduate medical, business and law students. John is an adjunct professor at the Sandra Day O'Connor College of Law where he teaches a clinic on Health Law Entrepreneurism. He remains involved in his alma maters by serving on the Drake University Board of Trustees and the Sandra Day O'Connor College of Law Alumni Board.



LIMITED TIME OFFER--
$19.95 USD Each (S&H Included)

30% OFF INTERNATIONAL SHIPPING
To Order
To order Ingredients of Outliers, please click here.

Holbrook Street Press