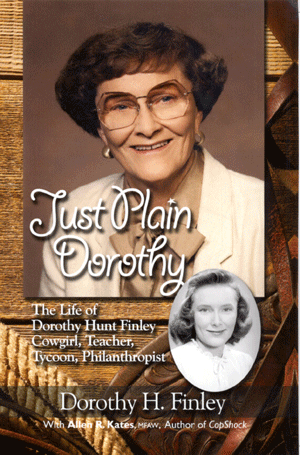 Just Plain Dorothy
The Life of Dorothy Hunt Finley
Cowgirl, Teacher, Tycoon, Philanthropist
By Dorothy H. Finley
with Allen R. Kates, MFAW, author of CopShock
LIMITED TIME OFFER--
$24.95 USD Each (S&H Included)

30% OFF INTERNATIONAL SHIPPING
Book Information
ISBN-13: 9780966850130
6x9 Trade Paperback. 400 pages.
Includes: 16-page photo insert, 5 maps, Notes, Bibliography, Index
Published by Holbrook Street Press
Copyright © 2009 by Dorothy H. Finley and Allen R. Kates. All rights reserved.

To order, please click here



Description, Table of Contents, Chapter Excerpt, Reviews, Author Bio
Description
Dorothy H. Finley is an Arizona icon. As a child, she grew up in hard times on a cattle ranch in the wilderness without electricity, water, indoor plumbing or air conditioning. She lived through "the troubles," a time when her father and uncles were indicted for killing a man during a real Old West shootout and feared they might have to flee to Brazil to evade the law.
From the age of four, she was on horseback herding cattle. At ten, she learned to drive a ranch truck, loaded 100-pound bales of hay in the back and fed the cows. She attended a one-room schoolhouse in the middle of a cow pasture. She became a schoolteacher and principal in the Tucson United School District (TUSD), started a beer distribution company with her husband and eventually became its CEO.
Today she is a major philanthropist, and has been on the boards of more than 50 nonprofit organizations such as the Arizona Chamber of Commerce, the Arizona Children's Home, the Arizona Historical Society, Big Brothers and Big Sisters, the Girl Scouts of America, the Greater Tucson Economic Council, the Pima Community College Foundation, the Tucson Children's Museum, the Tucson Medical Center, and the Women's Studies Advisory Board.
Dorothy was the driving force in preventing the closure of Davis-Monthan Air Force Base. As a board member for DM-50, she went to Washington, DC, and convinced the senators to keep DM open, saving Tucson and the state of Arizona millions of dollars in revenue, as well as thousands of jobs.
She has received outstanding awards including 1987's Entrepreneur of the Year, the 1999 Jimmy Hart Award, the 1992 National Spirit of Life Award, the 2001 Ray Davies Humanitarian Award, the Mae Carvell Award, and the 2003 Zachary and Elizabeth Fisher Distinguished Citizen Humanitarian Award. Two organizations named their centers after Dorothy: the Dorothy H. Finley Child Development Center at Davis-Monthan Air Force Base, and the Dorothy H. Finley Space Exploratorium & Challenger Learning Center of the Southwest.
Dorothy Finley has written a historical memoir of her life with the assistance of well-known writer Allen R. Kates, MFAW, author of CopShock and other books.
Starting around 1917, the book takes the reader on a voyage through the Old West, with gunfights and western justice. The story shows Dorothy on cattle roundups, how she nearly died from an Arizona Bark Scorpion sting, and how her family used outrageous folk medicine like turpentine and a petrified bee hive to cure their illnesses. The book takes the reader through the terrible times of the Great Depression, the first and second World Wars, shows Dorothy's years at the University of Arizona, and reveals her loves and disappointments including an engagement to a pilot who was severely wounded on a bombing run over Germany. We see Dorothy when she meets her husband Harold and watch them struggle to start a beer distribution company and make it grow.
The story of Dorothy Hunt Finley is an American legend. It includes lists of her awards and nonprofit activities, as well as Dorothy's 60 Rules for Success.

Table of Contents
Foreword
Chapter 1: Good Times, Hard Times
Chapter 2: Roots and Cowboy Boots
Chapter 3: Rancho Sacatal
Chapter 4: War and Prosperity
Chapter 5: The Shooting
Chapter 6: Mom Meets Dad
Chapter 7: Trials and Tribulations
Chapter 8: Having Babies
Chapter 9: My Childhood Ranch
Chapter 10: Fleeing the Drought
Chapter 11: School Days on the Malpais
Chapter 12: Recess
Chapter 13: Readin', Writin', 'Rithmitic
Chapter 14: The Great Depression Strikes
Chapter 15: Food, Glorious Food
Chapter 16: Mom and Dad
Chapter 17: Preachers, Salt Licks and Bugs
Chapter 18: Roundups and Mountain Oysters
Chapter 19: The Selling Business
Chapter 20: My Dad Threatens to Shoot
Chapter 21: My Famous Cousin
Chapter 22: Time to Leave
Chapter 23: Alone and Scared
Chapter 24: No Dogies in the Car
Chapter 25: Getting Out the Hayseeds
Chapter 26: The Honeymoon Ranch
Chapter 27: A Far-Out School
Chapter 28: Uncle Joe
Chapter 29: War Comes Again
Chapter 30: My First School
Chapter 31: War Torn Sweethearts
Chapter 32: When Dorothy Met Harold
Chapter 33: John Wayne Comes to Town
Chapter 34: Starting Our Business
Chapter 35: On the Move
Chapter 36: Pueblo Gardens
Chapter 37: Helping Teacher
Chapter 38: White Elementary
Chapter 39: Kids Make Me Laugh
Chapter 40: Integration
Chapter 41: Community School
Chapter 42: Schumaker Elementary
Chapter 43: After the Strike
Chapter 44: Saying Goodbye
Chapter 45: Giving Back
Chapter 46: Our Front Line
Chapter 47: Travels
Chapter 48: What Matters
Appendix 1: 60 Rules for Success
Appendix 2: A Woman of Influence
Notes
Bibliography
Index
Acknowledgments
Chapter Excerpt
When my dad and uncles branded cattle, sometimes Nellie and I sat on the fence and watched. They had two irons in the fire, the stamp iron and the running iron. The stamp iron had the full brand on it and the running iron had a hooked tip.
The cowboys burned the IV Bar brand into the back hip of the cows with the stamp iron. The brand was constructed with the "V" under the "I" and the "Bar" was drawn under them.
We preferred a complicated brand because that made it difficult to re-brand a cow if somebody stole it.
Cattle rustlers used a running iron to alter brands, but we used it if the stamp iron didn't come out clearly. In some places, having a running iron in your possession meant you were a thief and vigilante groups hanged you on the spot.
I found out the hard way just how hazardous a running iron could be. To prevent screw worms or infection, we soaked a piece of burlap in a bucket of water mixed with creosote and a little bit of alcohol, wrung it out, and then rubbed the brand with it so the burn turned pink and scabbed over. My uncle Jim had just finished branding with a running iron, and as I leaned over the calf and started scrubbing, he threw the iron back toward the fire, but it caught me across the side of my face.
It seared my cheek, but I had my hand in the bucket and threw the mixture of water, creosote and alcohol on my face. He apologized, but I shrugged it off and went back to work. The wound didn't get infected and left no scar and I never had a tetanus shot until many years later.
Branding the new calves was one of the most important jobs during the roundup. One time, my mother's aunt's daughter, Ruth, and her kids came down to watch. I didn't say anything, but thought, Wait until these city slickers smell the burning from the brand. Uncle Jim pressed the brand against a cow's hide and you could hear the sizzling, see the smoke, and smell the singed hide. The oldest kid was okay. The eight-year-old screamed and ran for the house.
Cousin Ruth held up her camera to take pictures when Tom whetted his knife and then sliced the bottom off a bull calf's scrotum, cut out the testicles and threw them in a bucket of water.
"I hope you saved the testicles to eat," I said to Tom.
"Of course, I did," said Tom.
We were such brats. We ate all those things: testicles, brains. My cousin got queasy and never did take a picture.
Bull testicles are known as mountain oysters, prairie oysters, cowboy caviar, calf fries and a bunch of other names. We didn't want the male calves growing up into bulls because you don't need too many bulls around pawing the dirt and getting into trouble. A bull can grow to over 2,000 pounds and he'll push through a barbed wire fence and not notice the barbs. By castrating them, the steers grow meatier and are easier to control.
The morning after a roundup, we peeled the testicles, washed them, rolled them in cornmeal, added salt, and fried them up in a skillet. In the Wild West, cowboys tossed the meat onto a hot iron stove, and when they exploded, they were done. I don't think there's anything a human being won't eat.
Roundups were a lot of work. We roped and branded, castrated the males, counted the stock, and doctored. The calves sometimes got screw worms around the cord or on a wound as a result of branding, dehorning, or injury, and we put chloroform on a piece of cotton, placed it on the wound, and the worms fell off. Then we washed the wound with a solution of half creosote and half water to prevent infection and to keep the flies away.
Another task we performed at roundup was cropping the calves' ears so at a distance we saw if it was our cow or our neighbor's. On the IV Bar, we under-cropped on the left side by cutting a little wedge out of the ear.
Our work was still not done. With calves that showed developing horns, we dehorned them. Even heifers grew them. Otherwise, they could be dangerous during a roundup or doctoring procedure. A cow can easily injure another cow, ram your horse and tear open your leg or stomach with its horn.
Dehorning was demanding. When dad sawed off the horn, often there was blood. He had to quickly take a hot poker from the fire and cauterize the site of the horn. You have to dehorn the calf when it's young and not wait for it to get bigger. The more mature the animal, the greater the blood supply to the horns and it got very messy. If you were not fast enough with the hot poker, the animal could bleed to death.
Working cattle was not easy. These are very strong animals, even when they are calves and look so sweet with their big blue eyes and long eyelashes (if they're Herefords). Big or small, they will sometimes put their heads down and ram into you, or throw their heads to the side and hit you hard with the top of their skulls. Sometimes if they are along side you, they will kick up their back legs and hit you in the ribs, leaving bruises and sometimes broken bones. That's why we rarely got off our horses. If we had to get off to brand, we tied their legs and made sure they were down.
My father learned firsthand how crotchety they can be when a cow stuck a horn through his hand. It was bleeding profusely and he went to the house to get mom. The horn had sliced through just below the thumb. Mom poured a mixture of medicines in the hole and the liquids ran out the bottom of his hand.
To heal wounds, even big wounds, we mixed turpentine and laudanum. The laudanum relieved the pain. The turpentine burned, but it prevented infection.
Then, for some reason, mom couldn't find laudanum anywhere. Stores had stopped selling it. An alcoholic tincture of opium, Laudanum was widely accepted as a miracle drug for centuries long before anybody knew how addictive it was. Many famous people had become laudanum addicts like Lewis Carroll, Charles Dickens, Edgar Allan Poe and even President Abraham Lincoln's wife, Mary Todd.
But those people were drinking it, apparently by the bucket. We were only pouring it on wounds. Now it's listed as a controlled substance.
Mom also used laudanum on big boils caused by staph infections that the cowboys got from the wool of their heavy jackets rubbing against their necks. Mother was a folk healer and used things doctors wouldn't dare consider today, like turpentine.
If we got a sore throat, she swabbed it with turpentine. We used turpentine on every wound, as long as we let it dry first and didn't wrap it until later. Otherwise, it stung.
As well as turpentine, mom kept more traditional ingredients on hand such as Epsom Salts and castor oil. Sometimes she fed us castor oil mixed with orange juice to keep us regular. To this day, Tom can't drink orange juice because all he tastes is castor oil.
We had other uses for these ingredients, too. For cows, castor oil and Epsom salts are good if they're bloated, have parasites or have eaten poisonous plants like locoweed. We mixed one cup of Epsom salts to one cup of castor oil into a gallon of water and poured it down their throats. That concoction could get rid of anything.
Turpentine, laudanum, castor oil, Epsom Salts… they made sense. But my mother practiced a folk medicine that was at times extreme. She employed a healing stone to cure bites, stings, and everything else.
My son John cringes when I mention this. He's a doctor and can't believe he evolved from such a superstitious lot. But is it superstition?
My mother's healing stone was not truly a stone. It was a highly polished, petrified wasp's nest cut in half so you could see inside. It had pretty colors and she kept it in the drawer of her Singer Sewing Machine. When she needed it, she wet it, stuck it on the bite mark or cut and it took the sting away. If a rattlesnake bit you, it drew out the venom. I can't say for sure about that because we were never bitten.
Tom says you were supposed to heat the stone in warm milk and treat not only snakebite, but hydrophobia, better known as rabies. I shudder to think what could have happened if we tried that one on somebody bitten by a rabid animal.
My mother came by her folk remedies honestly. Her great grandfather on her father's side was an old country doctor and had a remedy for curing blood poisoning, which was a mixture of sugar, lead, lithium and sulfate of zinc, or something like that. According to family anecdotes handed down through the years, it worked, but seems more like something you put in a battery instead of in a person.
Copyright © 2009 by Dorothy H. Finley. All rights reserved.
Reviews

Real-life Heroine
"This is a story of a real-life heroine from the Old West who invested her life in inspiring others, who broke down barriers and helped build Tucson into a thriving 21st century community. There's nothing plain about Just Plain Dorothy. It's a great read!"
-The Honorable Mayor Robert E. Walkup, City of Tucson, AZ


This Book Will Inspire
"This book will inspire and encourage everyone—teachers, community organizers, parents and children, military personnel, ranchers, and business leaders. I loved reading it."
-Ray Clarke, former President and CEO, Tucson Urban League, Inc.


Dorothy Is a Life Force
"Dorothy is a life force for the community. School and education are not just about books but about how you are as a human being."
-Rebecca Montaño, Ed.D., Educational Consultant, Education Trust

Author Bio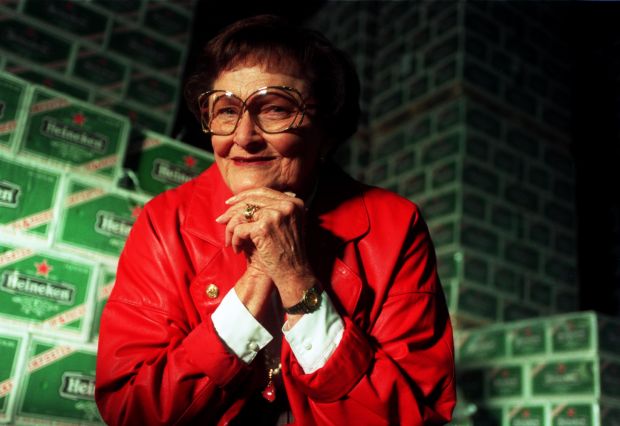 Born in 1920, Dorothy H. Finley is a renowned Arizona teacher, educator and philanthropist. She grew up in hard times on a cattle ranch in the wilderness without electricity, water, indoor plumbing or air conditioning. She lived through the troubles, a time when her father and uncles were charged with killing a man during a real Old West shootout.
From age four, she was on horseback herding cattle. She attended a one-room schoolhouse, became a teacher, principal, started a beer distribution business with her husband, and eventually became a major philanthropist. She has been on the boards of more than 50 nonprofit organizations and has received more than 30 major awards. She was the driving force in preventing the closure of Davis-Monthan Air Force Base by going to Washington, DC, and convincing senators to keep the base open.
The book follows her life through the Great Depression, two world wars, her years at the University of Arizona, her time as CEO of Finley Distributing, and her fundraising and philanthropy for organizations like the Arizona Children's Home, the Tucson Children's Museum, the Tucson Medical Center and the Women's Studies Advisory Board.
In the writing of her historical memoir, she was assisted by well-known writer and author Allen R. Kates, MFAW. www.ghostwritingmaster.com
LIMITED TIME OFFER--
$24.95 USD Each (S&H Included)

30% OFF INTERNATIONAL SHIPPING
To Order
To order Just Plain Dorothy, please click here.

Holbrook Street Press