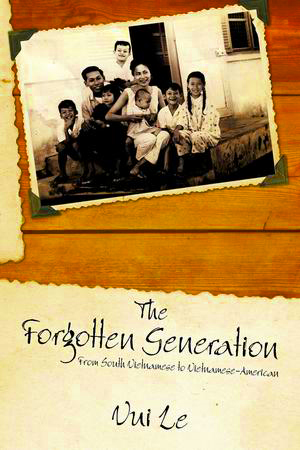 The Forgotten Generation
From South Vietnamese to Vietnamese-American
By Vui Le
LIMITED TIME OFFER--
$14.95 USD Each (S&H Included)

30% OFF INTERNATIONAL SHIPPING

To order, please click here


Book Information
ISBN: 978-4401-6860-4
6" x 9" Trade paperback, 145 pages
Contains black & white photos
Published by iUniverse, Inc.
Copyright © 2009 by Vui Le. All rights reserved.



Note From Allen Kates, MFAW:
This is no ordinary memoir. I had the privilege of editing The Forgotten Generation, and the story took my breath away. In the midst of war, the author, Vui Le, was called home because his military father was missing. His mother feared he was dead and wished to plan his funeral. But the bombs were falling, and all was lost.

Vui and his family managed to escape Saigon during the carnage, and found a new life in America. But that new life was full of struggle and hardship. They did not know the language, didn't have jobs, clothes or food, and the children in his family needed to get an education. Penniless, in a strange land, unable to communicate, Vui Le and his family survived and thrived. Full of mystery, suspense, intrigue, fear, love, hope, and faith, this is a story of extraordinary courage, spirit and a will to succeed. It's a heart-throbbing, heartwarming page-turner.




Description, Table of Contents, Chapter Excerpt, Reviews, Author Bio
Description
In the memoir The Forgotten Generation, Vui Le chronicles the life-changing experiences of the Vietnamese expatriates who fought valiantly for South Vietnam, risked their lives in search of freedom after the fall of Saigon, and made sacrifices for the future of their children during the aftermath of the war.
In 1975, Vietnam was a country of no consequence. While studying to be a Catholic priest, Vui Le is called out of the seminary by his mother after the Communists overrun Quang Tri, the town where his father was stationed. Because she had not heard from his father in several weeks, she summons Vui Le to help plan his father's funeral. It is this event that begins an uncertain future for a young Le and later motivates him to share this poignant narration of his family's escape from the fall of Saigon and their journey to a new life in America.
In his vivid account of how his family survived difficult and uncertain circumstances through sheer will and determination, Le also highlights the courageous and heroic acts of the South Vietnamese people-their struggles, sacrifices, and eventual victories-shedding light on a forgotten generation that deserves to be remembered.



Table of Contents

Prologue
Chapter 1: Preparation
Chapter 2: My Father's War
Chapter 3: Exodus
Chapter 4: Refugees
Chapter 5: America
Chapter 6: Charleston, S.C.
Chapter 7: Houston, Texas
Chapter 8: Five Years Later, 1980
Chapter 9: Cau Nam
Epilogue
Acknowledgments


To top of page


Chapter Excerpt

He pleaded with my Dad to listen to him, listen with his brain and not with his heart. The debates went on for hours, and finally Cau Nam stormed out of the room. He called on my Mom and Di Bay to reason with my Dad.

My Mom wept and begged my Dad to hear what Cau Nam had to say. "You should listen to Anh Nam. What good is it now to re-enlist? The Americans have abandoned Vietnam, what can we do now?"

My Dad replied, trying to convince everyone that there was still hope. "If we can hold on to Xuan Loc, Saigon will be safe. I will return home after we push back the Viet Cong."

My mom begged him. "Without ammunition and logistical support, how can you fight? You best stay here and help us plan our departure."

She started to cry and my Dad held her and slowly wiped away her tears. He said, "If we lose the war, our family will be destroyed. They will kill me. Anh Nam, Duong Bay and possibly Hung as well. Therefore I must stop these vicious people now."

My Mom cried even louder now. "If you go, you will die by yourself. Why don't you stay? So if we die, at least we can die together."

Now it was my Dad's turn to cry. "I will be all right. Take care of our kids. And if anything happens to me, they should know that I tried to protect them until my very last breath."

All of us kids started to cry. We were so scared, and my Mom knew this time he would not come back to us. She held onto him tightly, as we all wrapped our arms around them, crying. Our cousins and the other adults were in tears as well.

After what seemed like forever, my Mom sat down on the chair. Tears streaming down her face, she did not know what else to say. Many times before, she had begged him not to go to the front line, but she could never stop him. His patriotic duty and love for country were more than the love he bore for his family. Time and time again, he returned wounded on a stretcher, and she had nursed him back to health while he spent weeks in the military hospital, only to see him off to war again.

To our astonishment, my Mom reached for his handgun lying on the table. She cocked the trigger and placed the nozzle against her temple.

"I will kill myself right now so you may go."

We all cried out loudly. "Mom, Mom, please don't do it."

Anh Hung and Chi Levi ran to her, imploring her to stop.

My Dad kneeled down by her feet with tears running down his face. He embraced her and softly said, "Please put down the gun. I will not go."

My Mom put the gun on the table and held my Dad. We put our arms around them and wept.

That was how the war ended for my Dad. After twenty-five years of service for his country, his final battle was for his family.

Copyright © 2009 by Vui Le. All rights reserved.


Reviews

Powerful Narration
"The Forgotten Generation", as called by Mr. Vui Le, wouldn't be forgotten if people had a chance to read this book. Surprisingly, his story- regardless of how true and realistic it could be- is strikingly similar to any expatriates' who came to the US from any parts of the world. Only that Mr. Le's narration is so powerful and vivid that easily made readers- especially the immigrants- find a few similarities to their very own life, and I' ve just happened to be one of them. Thank you for sharing, Mr. Le.
-Freebird

God Bless the Vietnamese
Wherever they are. Both from the North and South. From Vietnam to America. From generation past and to come. May the last war be that: last war.
-by Michael

The Forgotten Generation is both riveting and entertaining
The Forgotten Generation is both riveting and entertaining. It begins with the passionate human loyalty and love of country and transcends to that of survival, commitment, bravery and ultimate success. From the comfort of an indigenous domicile where success permeates through multiple ancestries, one extraordinary family ventures to a new land cooperating in tandem to build a strong weave into the fabric of America.
Author and Successful Speaker, Vui Le, presents his remarkable tale of a journey fully lived, fully loved, and fully ripened. It is an honor to have the opportunity to read and share along in the fascinating tale of one remarkable voyage through an inescapable river of the unknown travesties and tragedies of war and social integration into the land founded by immigrants, America the Beautiful.
The book, The Forgotten Generation, is written with the foremost thought and dedication exemplifying faith, courage, honor, integrity, humility, grace, honesty, and trust.
-Elena Blume
Author Bio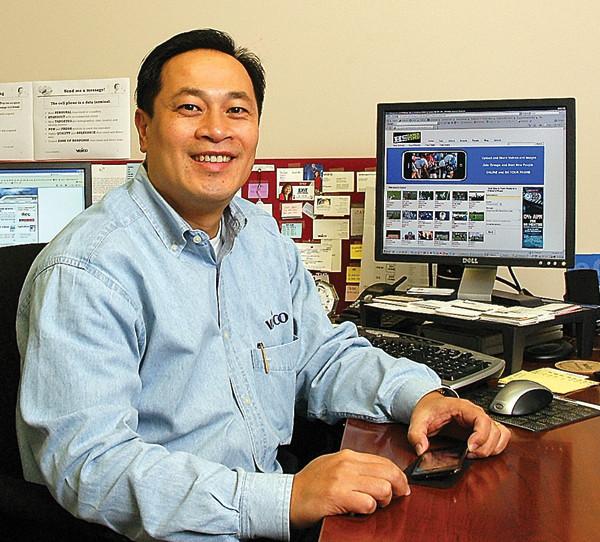 Author of The Forgotten Generation, Vui Le emigrated to the United States with his family in 1975. He earned an engineering degree from Texas A&M and currently owns a business. He and his wife, Young, have three children and currently live in Houston.
LIMITED TIME OFFER--
$14.95 USD Each (S&H Included)

30% OFF INTERNATIONAL SHIPPING
To Order
To order The Forgotten Generation, please click here.

Holbrook Street Press