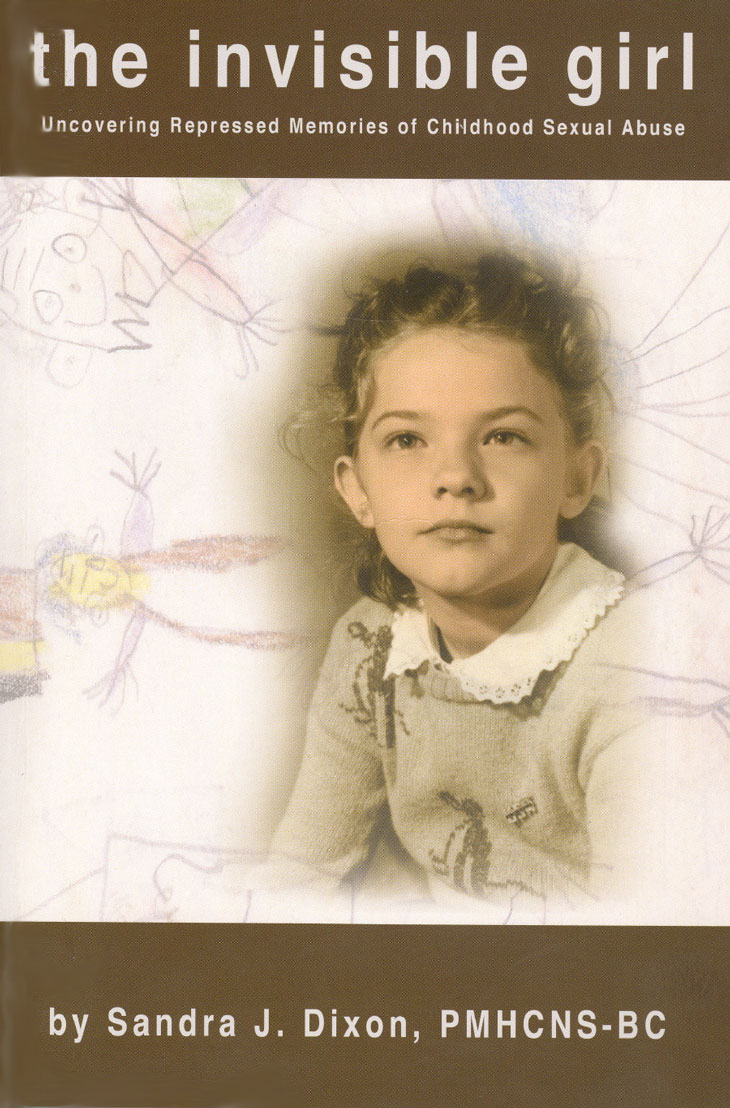 The Invisible Girl
Uncovering Repressed Memories of Childhood Sexual Abuse
By Sandra J. Dixon, PMHCNS-BC
LIMITED TIME OFFER--
$18.95 USD Each (S&H Included)

30% OFF INTERNATIONAL SHIPPING

To order, please click here


Book Information
ISBN: 978-0-615-22848-8
6x9 trade paperback, 209 pages.
8 page color insert of childhood photos and crayon drawings
Extensive bibliography, user guide for identifying molesters and what to do about it
Published by PercyHouse
Copyright © 2008 by Sandra J. Dixon. All rights reserved.

Description, Table of Contents, Chapter Excerpt, Reviews, Author Bio
Description
This story breaks new frontiers in what we know about repressed memories. The Invisible Girl is a riveting personal account of living in the aftermath of childhood physical and sexual abuse. It is based both on personal experience and the lives of hundreds of patients Sandra Dixon treated in 20 years as a mental health professional. Sandra grew up mute and detached from the world, feeling on the brink of insanity. Hidden in her mind were grotesque images that burst forth at any time or place without warning. She lived with the effects of repressed memories for 47 years before they surfaced and she was able to reclaim her life. She portrays her journey with courage, wit, humor, and a human spirit in search for answers.

Allen Kates had the privilege of editing The Invisible Girl and working with Sandra Dixon. He says that "The book is indeed a masterfully told story by a person who endured the unthinkable. It will help all those who have suffered in silence, too afraid or humiliated to speak out. Sandra gives you voice and courage."

The final chapter is a user friendly in-depth guide for parents and professionals about child abuse: identifying molesters, recognizing symptoms, how to help, hotline numbers, making a report and more.
Table of Contents
Foreword
Author's Note
Chapter 1: Wounded
Chapter 2: Growing Up--Scared
Chapter 3: The Mind is a Dangerous Thing
Chapter 4: Married Life
Chapter 5: Safe Place
Chapter 6: Nightmares and Flashbacks
Chapter 7: Too Much Reality
Chapter 8: Work, Family and Men
Chapter 9: Flashbacks
Chapter 10: Life, Death and J.J.Chapter
Chapter 11: War Letters
Chapter 12: Living Life
Chapter 13: Child Abuse Guide
Chapter 14: Analysis of Childhood Crayon Drawings
Acknowledgments
Bibliography


Chapter 13: Child Abuse Guide--Table of Contents
Statistics
Why Children Don't Tell
The Cost of Child Abuse and Neglect
What is Child Sexual Abuse?
Incest
Signs of Sexual Abuse and Trauma
Child Sexual Abuse Accommodation Syndrome
Long-Term Effects of Child Sexual Abuse
The Chaotic Lives of Childhood Abuse Survivors
Sexually Abused Children and Posttraumatic Stress Disorder (PTSD)
How Children Experience PTSD Differently Than Adults
Repressed Memories
When Memories Resurface
Child Molesters
How Child Molesters Groom A Child
Identifying Parents Who May Abuse Children
Community Awareness
The National Association to Protect Children
Megan's Law
Amber Alert
How to Protect Your Child
What to Do When a Child Discloses Sexual Abuse
Making the Report
What to Report to the Telephone Hotline worker
How the Telephone Hotline Worker Handles Reports
National Hotline Phone Numbers--Who to Call to Report Abuse and Neglect
What to Do After the Abuse is Reported
How to Recover From Abuse


Top of page



Chapter Excerpt, Chapter One: Wounded

Before I disappear, I am a happy child.
We crank homemade ice cream on grandma and grandpa's big porch that surrounds their old white farmhouse. Dad pushes me on a swing made from a small plank of wood that hangs from ropes attached to a huge tree in the yard until I feel I will fly over the clouds in the sky.
Before I disappear, my cousin Linda and I sneak up to the attic and fling open Aunt Folly's old smelly trunk. We take out silken gowns, layered petticoats, white lace blouses, tie-up shoes and frilly underwear. We pull on dresses twelve sizes too big, stuff socks into the bosom, and strut around the house, our hands on our hips, wiggling our butts, and laughing like big girls.
Before I disappear, I sit on my little red chair in Sunday school, waiting for Charlie to arrive. When his face appears, I summon him to the seat I've saved for him beside me. Charlie sits and smiles and takes my hand and holds it in his. We are in love. I am four, he is six. When it is time for our offering, we walk to the altar, hand in hand, like conjoined twins, and drop our nickels, simultaneously, onto the offering plate.
Before I disappear, he comes home from the war.
It is two months before my fifth birthday.
And I forget who my mother is.
I crouch in the corner of a room behind a bed. I am five now, and wonder what dead is and if I am.
The bedcover is pulled tight and the surface is smooth, like a flat pond on a still day. I grasp a corner and squeeze, crumpling the orderliness, like a rock thrown in the water sends a wave to eternity.
A drip from my nose lands on the shiny wood floor. I reach down to wipe it, but it smears, leaving a dirty palm print. My body shakes and my legs quiver. My stomach churns, and I swallow hard.
I hear a high-pitched voice from another room, an unfamiliar voice. I back up until I'm flat against the wall. I close my eyes and make a wish: disappear, disappear, disappear…
"Sandra where are you?" The voice is louder and closer. A woman with beautiful auburn hair suddenly rounds the corner. She hurries towards me. I'm trapped. I turn my head right, left, behind me, looking for a way out.
"Are you ready to go?"
My voice won't answer.
She reaches down, dabs at my tears with her thumbs and takes a hold of my wrist. She steers me past a silver-haired woman standing in the doorway. Frightening thoughts pound through my head: Where is this person taking me? Who is she? She says she's my mommy. But I don't know her. I don't know me.
The pretty stranger leads me away. She takes me to a place, and we walk up many stairs. She pushes open the door, but nothing is familiar, not the furniture, not the toys, not the people who visit, not the kids in the neighborhood, and not even the cousins who come to play.
A few days later, The Mommy tells me, "Daddy is coming back from The War to live with us forever."
She makes me wear a pink dress with ruffles, and ties a matching bow in my hair. Then she drags me down the narrow steps from our third floor apartment to a grassy area in front of the building. Soon, I see a gleaming black car pull to the curb. A tall man with brown hair emerges. I wonder who he is. He leaps toward us smiling broadly and shouts, "Dory, I'm home." He picks up The Mommy and twirls her around in a circle. He kisses her forehead and then her lips.
Then he turns to me. I try to run, but he gathers me up and swings me around and around. I hang limp in his arms. When he puts me down, we go upstairs. They hold onto each other and talk. They hug me, but I don't hug back. I can't. I sit on a flowery couch and watch them kiss, kiss, kiss. Later, The Mommy puts a Dinah Shore record on the record machine, and I watch them waltz around the room.
They laugh.
Not me.
Late in the afternoon, the Daddy-Man takes me outside and he throws me a ball. It rolls into the street, and I run across to fetch it. Just then, The Mommy joins us.
"Sandy, get on the sidewalk, right now!" she yells.
She doesn't understand. I can't go on the sidewalk. It's in front of the Thomas's house. That's where Jimmy's leg is broken off the rest of him. I don't want to see his bloody leg.
"Sandy, I said now!"
I cover my eyes as The Mommy comes after me. She yanks me from the street and drags me in front of Jimmy's house. I shut my eyes tight. I know Jimmy's leg is on the porch.
The Mommy tells me not to call her The Mommy. She tells me not to call the Daddy-Man the Daddy-Man. She says I should call them Mommy and Daddy. I comply. But in my heart I know they are The Mommy and the Daddy-Man.
Copyright © 2008 by Sandra J. Dixon. All rights reserved.
Reviews

Difficult to Put Down
Ms. Dixon has demonstrated enormous courage while describing her own history in a compelling manner that is difficult to put down and allows the reader to experiences some of the pain first hand without having to actually suffer the abuse. She also does an excellent job weaving prevention recommendations into the book to help others ensure that future generations do not need to suffer as she has.
–Carla van Dam, Ph.D., author of Identifying Child Molesters

A Courageous Accomplishment
Physical and sexual abuse is an often unrecognized, but admittedly huge public medical and mental health problem. This first-person account of a terrifying and confusing journey, child to adult, is a courageous accomplishment that informs and provides helpful solutions and resources to combat this problem.
-Barbara Parrett, MS, RN, CNS, Senior Trainer EMDR Institute, Inc.


A Must Read for Counselors, Parents, Teachers, Law Enforcement Officers and Judges

Once in a while, a book like The Invisible Girl by Sandra Dixon comes along that touches your heart and soul. It reads like a good novel, heartrending, funny at times, and terrifying, compelling you to turn to the next page to find out what happens next. And then you realize the story is true! Sexual abuse by someone who is supposed to love and care for you is a horrifying experience. It's no wonder that the author repressed her fear, pain and revulsion for many years, only to have her feelings express themselves in nightmares, flashbacks and odd behavior. Frightening, the book is also enlightening and a must read for counselors, parents, teachers, law enforcement officers and judges. Not only does it show the terror in graphic detail, but it describes what to do if you discover sexual abuse or encounter a child who is repressing feelings and memories. As author of a book on Posttraumatic Stress Disorder, I highly recommend this exceptionally well written book that will become a psychology classic and help countless victims/survivors and those who love them.
-Allen R. Kates, author of CopShock, Second Edition: Surviving Posttraumatic Stress Disorder (PTSD)

Author Bio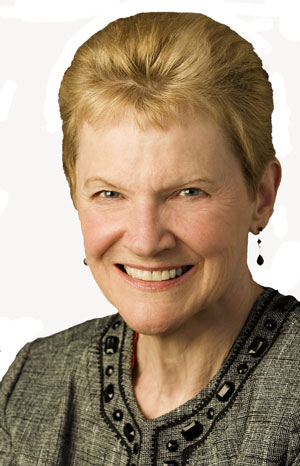 Sandra Dixon is a survivor of childhood physical and sexual abuse. She felt compelled to tell her story in hopes that her experience would widen public awareness, help survivors and their families and protect children from the horror of abuse.
Sandra is a Psychiatric Mental Health Clinical Nurse Specialist certifed in child/adolescent and adult psychiatry. She has worked as a mental health professional for over 22 years. She holds the following certifications with The American Academy of Experts in Traumatic Stress/in collaboration with The National Center for Crisis Management: Board Certified Expert in Traumatic Stress, Fellow, Acute Traumatic Stress Management, and Sexual Abuse. She is a member of The National Association to Protect Children (PROTECT.)
LIMITED TIME OFFER--
$18.95 USD Each (S&H Included)

30% OFF INTERNATIONAL SHIPPING
To Order
To order The Invisible Girl, please click here.

Holbrook Street Press