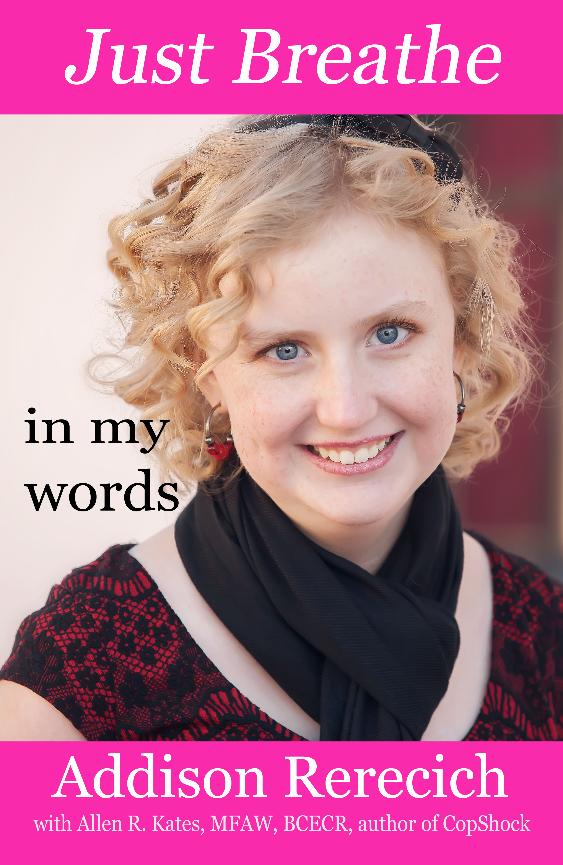 Photo by Allison Esplin Photography

Just Breathe
in my words...
by Addison Rerecich
with Allen R. Kates, MFAW, BCECR, Author of CopShock,
second edition: Surviving Posttraumatic Stress Disorder (PTSD)

Just Breathe, in my words to be published in early 2022
Addison survived 145 days in hospital and a double lung transplant. This is her story, in her own words.
She's witty, irreverent, hilarious, heartwarming and eloquent. Be prepared to have your heart touched.
A must read for young adults, children and parents!
Book Information
6x9 trade paperback, approx. 200 to 250 pages
Includes Notes, Index
Publishing Date: 2022
(Above cover is a mockup)

Proposed Retail Price: $16.95
This book will eventually become available as part of a two-book set
with
Tonya Rerecich's book
.
I'm Allen Kates, Addie's writer, and I'm honored to call her friend. After I began interviewing her mother, Tonya, for her book, Addie said that everybody talks about her, but she has things to say from her heart and would like to have her own book, a book in her words.

It was easy to work with Addie. I turned the tape recorder on, asked a few questions and let her talk. At times she was tearful, but mostly joyful, thoughtful, funny, quirky, brilliant and hilarious. She often made us laugh.

What would you do to change the world? I feel like I'm in a Miss America pageant. My way to change the world, would be to adopt children who need help and to let them know that they can be whatever they want to be and not be like, oh, well, you're a girl, so you can't be president someday. Oh, well, you're a boy, so you can't be a stay-at-home dad because that's a mom's job. You do whatever you want and I'll support you.

Addie wonders why she survived her illness. Why she survived five months in the hospital, numerous medical procedures, an impossible 93 days on ECMO, a machine that breathed for her, and lived to go back to school and be with family and friends.
She dislikes the word "survivor" and doesn't want anybody calling her that. She said, "I got through it. End of story."
And then added, "Why am I still here, what great things does God want me to do?"
She doesn't fully grasp that she has already touched countless lives around the world forever, including the doctors and nurses who cared for her. She brought everyone together at her bedside through the media and the miracle of the Internet. She changed them in ways no one could imagine. She mended hearts and stirred in them unbridled love, kindness and compassion.
Hundreds sent emails and posted on Facebook how they feel about her, how they want her to live a pain-free, happy life.
Before Addie developed a staph infection in mid-May 2011, she was an athletic girl who played baseball, volleyball and swam. She has freckles across her nose, dazzling blue eyes, white-blond hair and a tan from being outdoors a lot, which has faded since she's been in hospital. She has two brothers, Logan and Seagan, and a sister, Sheridan, both parents, Tonya and Larry, and goes to school at Redeemer Lutheran. She has close friends and a quirky sense of humor not everybody understands.
An aspect of her personality that both perplexes and amuses others is that she never stops talking. "I loved my life," she said.
She was the organizer, the planner and CEO of fun. When kids came over to play in her yard, she set up dog training trials, except instead of dogs, she convinced the children to run around on all fours and jump over obstacles. They even allowed her to put leashes on them. She wonders why. Maybe it's because Addie used to be the go-to person for spontaneous entertainment and joy.


I want my daughter to be named Rydell Adam because my first boyfriend's name was Adam. I like his name and that's part of the reason I dated him for a day. But then I watched a TV series about vampires and a main character's name was Stone so I decided that I would name my son, Stone. His middle name would be Mason. My mother said that if I named my child Stone Mason, she's disowning me because how dare I name my child Stone Mason. I like it, so my child will be Stone Mason. You don't hear that name everywhere.
The infection destroyed Addie's lungs and if she were to live, she needed a double lung transplant. The survival rate is about 55 percent after 5 years. Addie received new lungs, we think from a child who had died (the doctors won't actually say, but the lungs are small), and she is forever grateful to the family that gave her the gift of life during a time that their hearts were breaking.

Just before the transplant, Addie had a stroke, and after she came home from the hospital, she needed months of recuperation, working with physical and occupational therapists who set goals for her to reach. She viewed goals as just another impediment to merriment and she declared that she would reach her goals in record time. Her therapists humored her. "Nobody could do that," they said. Well, she did.
Addie was determined and focused. Baseball season was underway and she wanted to get back on the team. In spite of her desire, she was never well enough to play again, but only six months after she got home from the hospital, she threw out the first ball at the Continental Ranch Little League opening game at Windmill Park on March 31, 2012.
To everyone's amazement, she joined the swim team, and although she said she "sunk like a stone," she loves the water and how it makes her feel: free and jubilant like a champion.


I want a girl so badly. Because boys don't have a lot of fashion options for clothes or decoration. You're kind of stuck with blue. My daughter will be a redhead. I was a natural redhead at birth, then it started growing blonde. She'd have those pink full lips that you see on perfect little girls who model on Google. My daughter is this adorable little doe-eyed, bright pink full lips, with perfect red hair and freckles, and her ears are small and she's just dainty. I wouldn't be mad if I got a larger child, but that's my ideal kid right there. It appeals to me because it's a stereotype.

Two days after she stood on the pitcher's mound at little league and shouted, "Play ball," she returned to elementary school and eventually went to high school. Everyone treated her with kindness and respect and tried to help her whenever they could. After a while, she wished they would treat her like a normal kid, as that's what she longed to be. Just normal, nothing special.
It's plain to us that she will always be "special." She represents the good in all of us, the beating hearts that tie us together, and we let her know through thousands of get-well cards, messages and gifts that she is indeed exceptional.
Addie wonders how people would remember her, as she thinks she has not done anything notable. She hasn't climbed the Himalayas, invented a new antibiotic or kissed a boy. She wanted a tattoo, a nose ring and to shave her head. Those she has achieved.



After all the procedures and surgeries, I want to prove that this is my body, not the doctors'. I feel like an alien experiment that people tried things on to see if it worked. With a nose stud, I'm not that anymore. When my head is shaved, I'm not that person. I don't want people to remember me for my illness or scars. I want them to remember that I'm the one who decided her senior year she was going to get bright rainbow hair. I think people that do that are really awesome and badass, and I want to be badass.

During her five months in hospital, Addie's mother, Tonya, a nurse, was at her bedside nearly every day and night, and helped the nurses and doctors make decisions about Addie's care and the frequent, often invasive, procedures, including surgeries, bronchoscopies, insertion of chest tubes, a tracheostomy… they were endless, sometimes two or three a day.
On two occasions, doctors told Tonya to assemble the family to say their last goodbyes, as Addie would not live through the night. The many machines attached to her documented that her body was shutting down. It was over. End of story, as Addie would say.
Addie's grandfather, John, refused to believe the naysayers. He told Tonya that despite the evidence, Addie would get through this. And she did.
The doctors cannot explain it. Nurses would come back after a few days off and were shocked that Addie was still alive, awake and asking for popsicles and Eegee's smoothies. Medically, it makes no sense.
To Tonya, and to the people in prayer circles around the world, it makes perfect sense. The gates of heaven are not ready for Addie. She has things to do. She has amassed a community of believers and fans and the power of their prayers and affirmations helped Addie endure the ups and downs of her nightmare.


The world is not made for people like me. It's made for regular people, so every morning I get up and I ask myself, How can I defy the world today? What can I do to make the world where it's good for me and not just for people who are normal? I am a different kid, and here's what I can do about it, and I'm really proud to say that not everybody is like me, and I feel like I can make the world a better place.
The medical staff in the hospital called her room Addieville, a place where the impossible could happen. The rules did not apply in Addieville, especially the rules governing life and death. Only life was allowed.

At the same time, Tonya suffered through a roller-coaster of emotions that would break most people, but, like her daughter, she was determined.
At one point, she asked Addie if she wanted to live or let go. Were the fear and pain too much for her? Addie said she wanted to live. That's all Tonya needed to hear, and, ignoring her own fears and suffering, she helped her daughter eventually come home. For that, Tonya paid a price, having developed Posttraumatic Stress Disorder (PTSD) from the ordeal. But it was worth it. She had her daughter back.
My marriage is not going to be the husband runs the house. It's going to be the mom runs the house. End of story. He's not going to ask any questions. He'll do the dishes if I ask him to. I will have a job if I please. If I choose not to have a job, then I won't have a job and he doesn't have to make me.
Addie is a deep and original thinker. She collects anything that represents the comic book superhero, Batman. Movies, posters, tee-shirts, a batmobile and action figures. It would be easy for us to dismiss her fascination as a childhood obsession. But Addie's feelings and thoughts are more profound that that.
To her, Batman is not an indestructible character like Superman. He is human, flesh and blood, suffers pain and disappointment, and experienced a severe trauma, just like Addie. He saw his parents killed. Addie's trauma killed her childhood and promises for the future. She identifies with Batman. Like Batman, she said she wants to fight for truth and justice. After having had a near-death experience, she believed they are worth fighting for.
That and love, community, kindness and tolerance. She believes in universal health care, a free college education, acceptance of everyone and not putting immigrants, especially children, in cages just because they want a better life.
Every day Addie blesses us with her goodness, honesty and grace. We are better people for knowing her and she belongs to us. I know what she would say about that last line: "Hey, get over it. Let's play ball..."