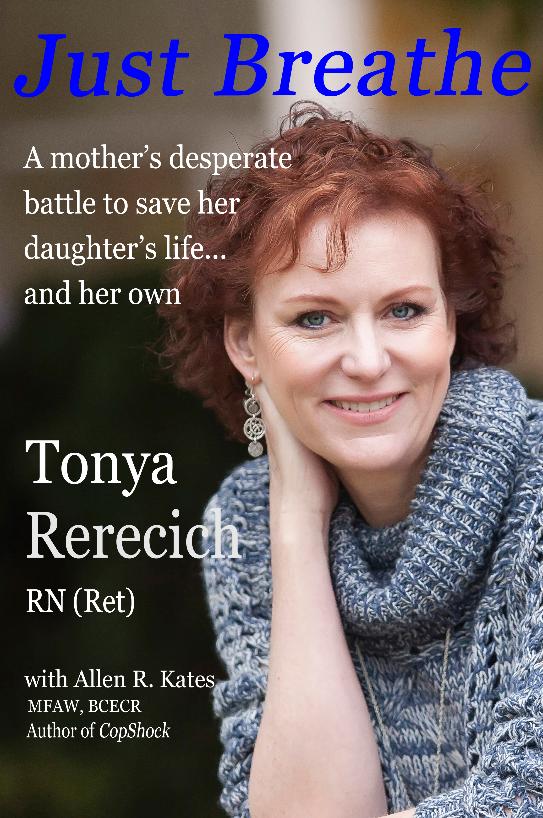 Photo by Allison Esplin Photography

Just Breathe
A mother's desperate battle to save her child's life... and her own
by Tonya Rerecich, RN (Ret)
with Allen R. Kates, MFAW, BCECR, Author of CopShock,
second edition: Surviving Posttraumatic Stress Disorder (PTSD)
Just Breathe -- Coming Soon...

A book for every parent, nurse, doctor, caregiver, relative and friend of a hospitalized sick child.
A suspenseful page-turner, an inspiring true story that will make you jump up and cheer!
Book Information
6x9 trade paperback, approx. 500 pages
Includes bibliography, Notes, Index
Publishing Date: 2022
(Above cover is a mockup)
Proposed Retail Price: $29.95
This book will eventually become available as part of a two-book set
with
Addison Rerecich's book
.
When Addie was 11...
When my daughter, Addie, was 11 years old, she was hospitalized with a staph infection, went into septic shock and was not expected to live. But she did because medical practitioners took extraordinary steps to save her.
She was in bed for 145 days. To help her breathe, she was placed on a ventilator and eventually on ECMO (Extracorporeal Membrane Oxygenation), a heart/lung bypass breathing machine, for 93 days, a U.S. record for her age group.
Every day was a struggle, one day better, the next near death, and my family was called in on at least two occasions to say goodbye because doctors said her vitals had crashed and could not be reversed. Inexplicably, Addie surprised everyone and survived.


Addie's hospital charts 25,000 pages long
She endured procedure after procedure to keep her alive. Her hospital charts are 25,000 pages long, and the hospital bill is 500 pages, documenting a cost of over $6 million. Every day, I anticipated that Addie might die today or the next.
After she was hospitalized, I quit my job as a recovery room nurse to be at her bedside, day and night, throughout the ordeal. I used a room next door to sleep a few hours a day when I could and ended up living at the hospital, cutting off most contact with the world I used to know.
After 5 months of what felt like riding a roller coaster of emotions and dread, Addie endured a double lung transplant and was allowed to go home.
Caregivers may develop Posttraumatic Stress Disorder (PTSD)
As a result of the ups and downs, fear and terror over a prolonged period of time, I developed Posttraumatic Stress Disorder (PTSD) and alcohol use disorder (AUD).
According to studies, up to 50% of caregivers reduce their work hours or quit their jobs to provide care. About 32% require medications to cope. I quit my job and took Ativan and self-medicated with alcohol to cope. The most dramatic statistic states that Posttraumatic Stress Disorder symptoms in caregivers may drop to 42% three months after discharge, but may shoot up to as high as 80% a year later, an extraordinary increase.
Surprisingly, PTSD symptoms such as nightmares, flashbacks, anger, concentration problems and hypervigilance may increase over time, as they did in my case.
In other words, most parents who have a child admitted to the ICU run a risk of developing PTSD, and need to know how to prevent it before they are suddenly thrown into a confusing tangle of medical procedures they know little or nothing about. This book helps them understand how PTSD can develop and how to prevent it.
Keeping a journal, Facebook blog
During the horrific ordeal, I maintained a daily Facebook blog about what was happening to Addie and kept a journal, recording events and my feelings. The recordkeeping helped me keep my sanity. Writer Allen R. Kates, MFAW, BCECR, assisted me with the writing of the book and his taped interviews resulted in almost 4,000 pages of transcripts.
We walked a tightrope
After Addie's transplant, I was able to bring her home. I had hoped things would return to normal, but that was a dream that could not be realized. Although she progressed rapidly, she would never be the same. Every day we walked a tightrope where Addie took massive doses of anti-rejection medication, would constantly wash her hands, fearing infection, and tried to avoid people, places and things that could make her sick.
Although my story is at times dark, it is inspiring and shows the best in people, including the dedicated doctors and nurses and people in the community who supported us.
Who this book is for
The book reaches out to caregivers, including the parents, brothers, sisters, aunts, uncles and other family members and friends who have watched a loved one suffer as a result of illness or injury while hospitalized. It acts as a guide to those who need to know what to do, what happens next and how to interact with doctors, nurses and other hospital staff. It's a guide for anyone facing time in hospital.
Number of children in hospital at any one time
To give you a picture of the number of children in hospital at any one time, in 2012, nearly 6 million were hospitalized in the United States. If you subtract neonatal stays, about 2 million children age 17 and younger are hospitalized each year, mostly for respiratory diagnoses.
It means that every year, 2,000,000 families in the United States and millions more worldwide are suddenly thrown into a state of panic and worry. Millions of parents, grandparents, uncles, aunts, siblings and other family members, as well as close friends, are exposed to a situation where a child they love is in jeopardy.
An invaluable book for parents, caregivers, nurses, doctors,
medical and nursing schools
For caregivers, nurses and doctors, the book provides invaluable insight into the minds of patients and those who support them and how medical staff can help reduce their terror and anxiety. The book often provides details of procedures, medical equipment and how patients and medical staff interact.
Just Breathe is an important adjunct to medical and nursing schools, giving students an accurate picture of what it's like to work with other medical staff and patients during medical crises.
The book is a gut-wrenching, highly detailed story about a child and a family in pain, dozens of medical procedures, and about navigating the hospital system while caring for a very sick child. It is also a warning about bacteria's growing resistance to antibiotics, turning them into Superbugs that kill.
More than anything, it is an uplifting, inspiring story of dedicated doctors and people in the community who supported us during a horrific time that every parent fears.


A book for every parent


It is a book not only for parents of sick children, but one every parent must read so they are prepared for the worse and know what to do.
Who I am today
Today I am a public speaker on subjects like what parents of sick children should do to cope, PTSD in parents and caregivers, what to say to sick children, hospital acquired bacteria, ECMO, blood cultures, sepsis, septic shock and toxic shock syndrome, our flawed health care system, and related subjects. As well as being a retired RN, I am board certified by the American Academy of Experts in Traumatic Stress (AAETS) with Certification in Illness Trauma (C.I.T.).


My background
I am a 23 year veteran Registered Nurse and hospital supervisor with degrees in applied science, general science, and continuing education in critical care nursing. I worked in nursing specialties including Cardiac ICU, Medical Surgical ICU, Post-Anesthesia Care Unit, Postpartum Care Unit, Elder Care, Oncology and end-of-life care.
How to reach me
We will add more information to this page as we get closer to publishing Just Breathe. If you would like to contact me, please email me at: Tonya@tonyastalks.com.